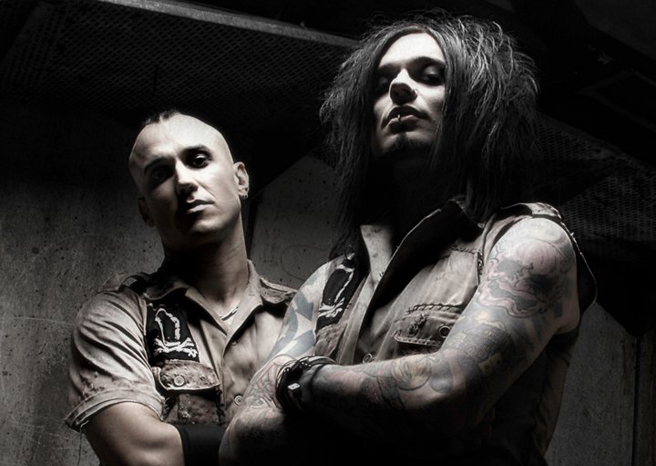 Smiley Dave caught up with The AVD and Stitch D from The Defiled at Takedown Festival 2013. We talk squash courts, Danzig and how their new album 'Daggers' nearly didn't happen. Watch the video and read along.
How much are you looking forward to today?
Stitch D: "It's good, we haven't even looked around yet so we don't know where our stage is. I saw some squash courts, there are actually people playing and I'm like you do know there's actually a festival going on?"
When's your next show?
Stitch D: "Our next one is Copenhagen with Danzig?"
With Danzig?!
Stitch D: "Yeah we got told we were playing the same stage and we're like 'Oh Shit' "

The AVD: "We're doing some German shows and I don't know, we're doing stuff."
You're just going to shows, doing your thing and leave your mark on them
The AVD:  "I do leave my mark, all over it… I do ask them first, 'Can I leave my mark on it?' "
You're last video 'Sleeper' has done very well on youtube and it's a lyric video, was that your choice?
Stitch D: "It's just a teaser for the album it's not going to be released as a single."

The AVD: "It's not the best song on there, It's a kick-ass song don't get me wrong, even if we say so ourselves, that's why we put it on the album."
It has the term, 'Deceive and Infiltrate' which is usually the motto of a load of lads on the pull.
The AVD: "Deceive and Infiltrate… I'll go with that."

Stitch D: "That changes everything."

The AVD: :Damn, you're a bad person Smiley Dave. Your names deceiving 'Smiley Dave' ".
I'm not, I come across as a ' TV presenter but am actually a children's presenter from the 70's.
The AVD: "Fritzel…"

Stitch D: "How'd you get to Fritzel?"

The AVD: "Deceive and infiltrate come on…"
You got a new album coming out, what's it called?
Stitch D: "It's called Daggers, it's coming out this summer."

The AVD: "It's going to be awesome, we went to record it at Jason Suecof's studios."
You guys had Pledge music to help you.
AVD: "Yeah, we got our fans to actually fund our album because we didn't have a record label and that was a really great way of getting our album done."

Stitch D: "Can't actually believe it worked."
And it finished a week early before it ended as well
Stitch D: "Yeah, it was getting to the point of 'This isn't going to work' "

AVD: "It happened last minute, it was like 'Well I guess we're not doing this anymore' "

Stitch D: "Yeah, we didn't have a plan so it was either that or bust."
The Defiled's new album 'Daggers' is released on August 2nd on Nuclear Blast.