Back in 2006, the World of rock took a kick up the arse by a little band known as The Sword and their debut album, Age of Winters. To this day people are discovering this band and having it become a permanent fixture in their lives. What followed for twelve years was a journey that would see The Sword never settle and always push the envelope in their own way until 2018 when they chose to step back and take a hiatus. 2020 was set to see them return to the stage supporting Primus across the states and celebrate their time as a band with not one, but two new releases containing absolutely every hidden gem they could find, through live recordings, unreleased studio material and covers. With the Covid issue taking the world by storm, we found ourselves in a position to have a sit down and emailer between ourselves and JD Consise about all things the Sword in 2020.
You've decided to release two collections, Conquest of Kingdoms and Chronology, for those that are less aware, can you tell us the difference between the two, and the reason for two releases rather than just the one?
The main difference in simply the format of each release. Chronology is a 3-CD set, and Conquest of Kingdoms is a triple LP set. The original idea as conceived by our former manager, was for a career retrospective anthology of select album tracks, live material, b-sides, rarities, and unreleased oddities; which is precisely what Chronology is. The problem was that to release an LP version of all that material would involve a prohibitively high number of records, so that's where the idea of a more streamlined LP package came from. With that in mind, we wanted to make sure the two were distinct from one another, so Chronology will include a booklet with essays from myself and a few of our influential friends and lots of photos from throughout the years, and Conquest… features super cool gatefold artwork by David Medel a.k.a. WB72.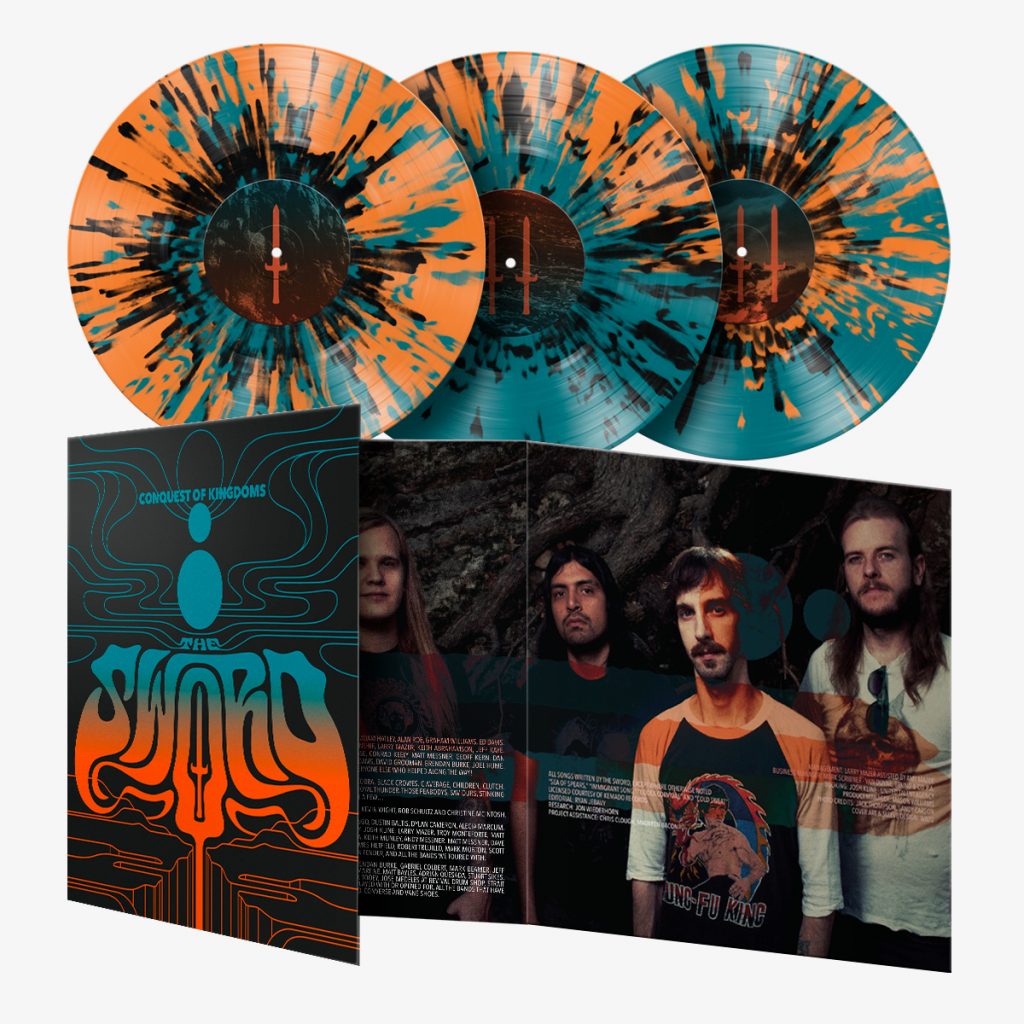 Both releases amass a huge number of tracks including live performances, b-sides and covers from throughout your career. Where do you even begin with deciding what to include and what order to run them in?
The order was simple: chronological! As far as what to include, the only tracks that required selection were the album cuts, and I just chose the ones I felt best represented each album. For the rest, we emptied the vaults, so to speak, and basically included anything we had that was usable.
The collection is coming two years after The Sword went on hiatus, can we expect this to be a dipping the toes in the water and if we should expect any return of The Sword in the future?
We were definitely ready to do some touring this summer, but that unfortunately had to be postponed due to COVID-19. As far as a new studio album or anything like that, we'll all have to wait and see. I'm usually not very inspired to write music unless I know I'll be able to perform it live, so hopefully live shows will make a safe return at some point in the not-too-distant future.
More often than not, everyone's gateway into The Sword seems to be through Freya, be it a friend introducing them to the band and Age of Winters, or Guitar Hero etc. When you look back, did you ever think that song and album would have the impact it has on the band? Does it ever get tiresome to be reminded of that song and album with so much work after it?
No. People often retain a soft spot for the first thing they heard from an artist they like, myself included. You can't fault anyone for that. It's when they want you to recreate that experience for them over and over that it gets tiresome because that's an impossible task.
As time went on through your career, you progressed in writing styles and didn't settle on what was previously written, when it came to writing, what influences came in and changed your writing styles? What strikes you as some of your personal career highs and greatest achievements?
I'm pretty proud of all our albums and the progression they follow. But I think if I could only choose one thing to represent The Sword to future generations or alien visitors or whatever, it would be the video for "Maiden, Mother & Crone".

You were set to take to the road supporting Primus doing Rush covers on tour, What will you be doing now with the tour being postponed? What goes into the preparation for a tour like this and how do you cope with what I can only imagine to be sheer frustrations?
We'll sit at home and be bummed out just like every other touring artist right now. There's not much else we can do, but we're looking into doing some kind of video or something. We can't get together in the same room because we don't all live near each other, but with the power in the internet and multitrack recording we'll hopefully be able to put something together. Not exactly a substitute for a live show but better than nothing! As far as preparations for the tour, it was still a couple months away when it got postponed, so even though it was disappointing, it was not unexpected given the pandemic situation. We've had a tour get cancelled the day before it was supposed to start, and that was much worse!

What would be the perfect tour, be it as headline or support you guys could have, if given the choice?
I don't know if there's such a thing as a "perfect" tour, and the imagination could really run wild with dream scenarios. But if I had to make a reasonable choice that I personally think would be the perfect bill, it would be The Sword, Fu Manchu, and Monster Magnet.

Aside from The Sword, you all seem to have individual side projects, can you tell us about those and what you have all been up to and where those projects can be supported and enjoyed?
Our guitarist Kyle has a crowdfunded solo album where he played all the instruments, our bassist Bryan has an album out under the name Galactic Protector on Burning Witches records, and our drummer Jimmy plays in the bands Think No Think and Recover. And a few years ago the three of them were involved in a Pink Floyd tribute project called Doom Side of the Moon, which was produced by Kyle. As for me, I've got some solo tunes on Bandcamp. https://jdcronise.bandcamp.com/ I was in the midst of attempting to put a live band together when the pandemic hit, so hopefully that will come to fruition at some point.
Coming back to the two collections, as mentioned you've a range of covers from ZZ Top to Pentagram included, during the time of those recording sessions, how did you choose those songs and bands over others? Are there any songs you wish you had covered through those times?
We picked songs that would be fun and not be too hard to learn. There aren't really any songs I wish we'd covered that we didn't, but there are a couple we've played live that I wish had been recorded. We did a ripping version of Thin Lizzy's "Massacre", a slow down-tuned version of "Working Man" by Rush, and more recently "Children of the Revolution" by T. Rex. Maybe we'll get around to tracking one or two of those at some point.
With the albums being a collection of The Sword's history, it must bring back some memories of good, and not so good times. What have been the highlights and low points of your time as a band?
I'm sure everyone has had their own individual highs and lows over the years, but as a band I'd say the highlights would be getting to tour with Metallica, Clutch, and Kyuss; and the lowest point was probably when our drummer quit in the middle of a tour two weeks after Warp Riders was released.
Could we expect any sign of The Sword potentially returning to the UK to support the Chronology and Conquest of Kingdoms releases at any point?
Currently there are no international touring plans. Once we can tour our own country again, then we can start looking at the possibilities for returning abroad.

Lastly, what is next for you guys, separate or together as a group, and where can people go to support you all with merch and streams or to keep up to date online?
As I think is true for everyone right now, plans of any sort are tentative at best. Hopefully we'll be able to tour next summer! People can go to www.theswordofficial.com for merch and tour dates when they become available.
The Sword and their releases Conquests of Kingdoms and Chronology 2006-2018 are due for release June 19th and can be pre-ordered now, special bundles are available through CraftRecordrecordings.com and TheSwordOfficial.com