The self-proclaimed 'Greatest Band Of All Time' have confirmed they will be playing this year's Bloodstock  Open Air festival as well as a string of UK and European dates.
The 'action adventure hardcore rock 'n' roll' band will appear on the Sophie stage, August 6th.
Not content with playing one of  Europe's biggest metal festivals, ArnoCorps have also announced a European tour:
AUGUST 
Sat 1 The Star and Garter, Manchester 
Sun 2 Voodoo Lounge, Dublin
Mon 3 Bar Sub!, Belfast
Tues 4 The Classic Grand, Glasgow
Thur 6 Bloodstock Festival
Mon 10 Explosiv, Graz, Austria
Tues 11 TBA, Vienna, Austria
Thurs 13 Wild At Heart, Berlin, Germany
Friday 14 TBA, Holland
Sat Aug 15 The Underworld Camden, London
Check out the blockbuster teaser for the tour below!
Leading man, Holzfeur, had this to say:
We have conducted audio assaults throughout the UK and Ireland in 2006, 2008, 2012 and 2014. Last year, the fans insisted their muscles would dwindle and they would become marshmallow asses if ArnoCorps did not return sooner. That truly made me lose sleep, right there… or maybe it was just gas from a bad protein shake? Either way, the discipline we inspire, the muscularity, proportion and symmetry that we espouse, we enable so many to experience the pump… This is our service not only to Californians where we are based, but also to the heroes and sheroes of the UK and Europe that we have such a powerful bond with!"
ArnoCorps are famous for being the first punk / rock band to play songs solely based on movies starring action hero Arnold Schwarzenegger such as 'Terminator', 'Commando' 'Total Recall' and 'Predator'.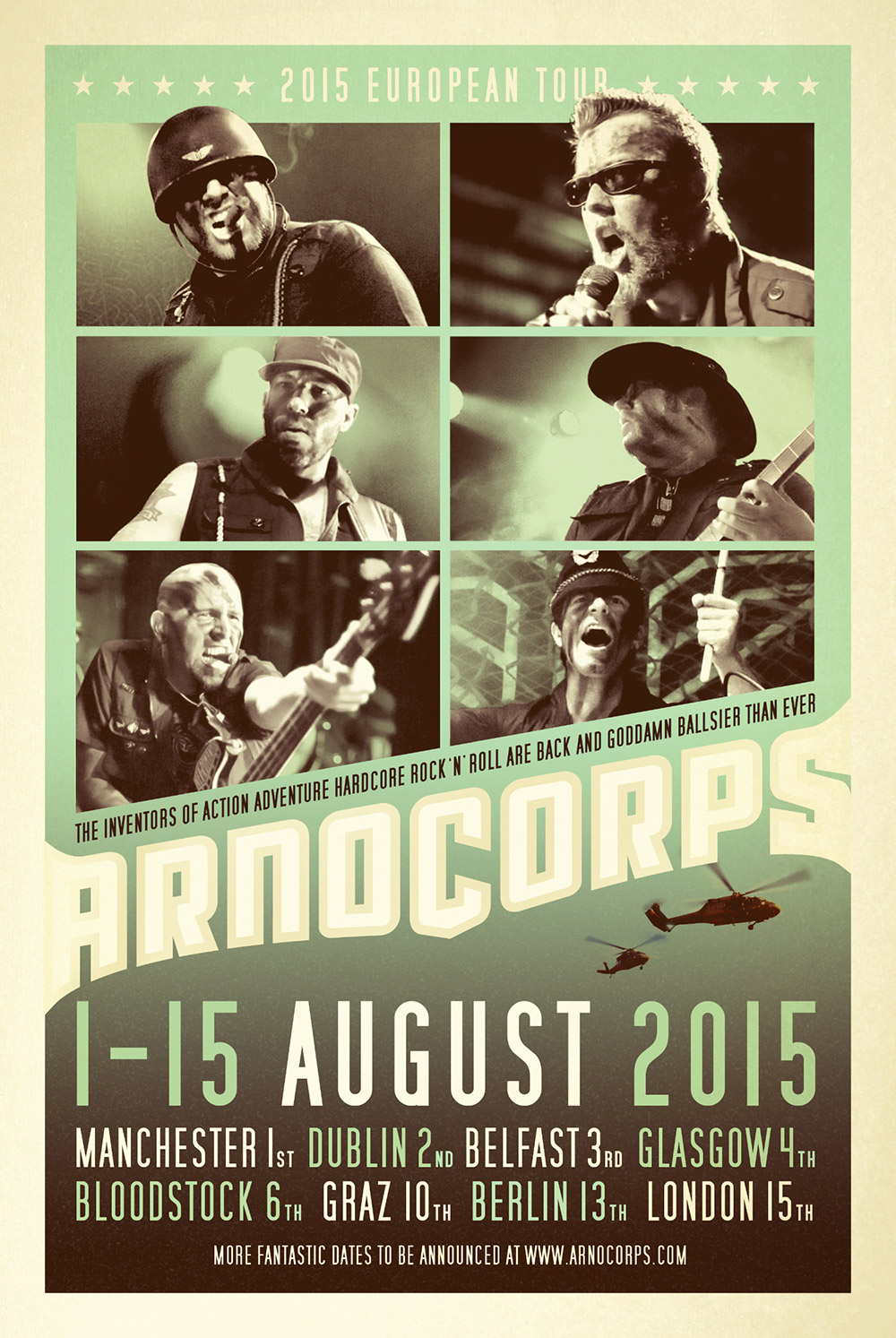 Which Arnie movie would make a great rock song? Let us know in the comments…DO IIIT!! PUT THAT COMMENT DOHWWWN!