When did this whole scene happen? I'm not talking about the 'goth', or the 'dark-wave' scene, or even the 'grave wave' scene. The current scene of unsigned or non-mainstream rock bands that celebrate all things dark, yet with a sense of great fun? In Newcastle you will see the same faces at these gigs. Gigs by Fearless Vampire Killers, Ashestoangels, Ugly Love, DEAD, and tonight's ringleader – William Control. It's hard to pinpoint a 'where' or 'when' but it seems this is a movement slowly surfacing.  Some of the rock press call it 'Grave Wave', where as I prefer 'New Grave' (or even 'Nu Grave' anyone?) Even so Mr Control has been performing solo since 2008, and with goth-core band Aiden since 2003. Can you pinpoint 'Nu Grave'?  Can you even pinpoint a 'scene'?
The Globe is a pretty unconventional venue for a gig of this magnitude: a pub across the road from Newcastle's arena venue,  currently advertising tour dates by S Club 7 and Take That. Yet, the setting is right for the crowd with it's gothic style mirrors, purple feature wall and silver discs hanging behind the bar. A little cosy but definitely fit for use. We are greeted with 'choons' by DJ Terror Twin, playing some of the finest electronica, industrial and fusion tracks on this side of Marilyn Manson's vanity case.
First on stage are local act Eden Rejects: a blend of Metallica, Hole, and even a little Kells for good measure. Following a short break we have Bristolian boys in black – Ashestoangels. These guys never fail to entertain, bringing down the house with pure energy. This involves front man Crilly stage diving and crowd surfing for almost the entire set with guitarist Adam Falkor closely following behind.  The goth-punk explosion attracts the crowd for what feels like a headline set. Everyone uniting for 'Wintervention' this was the ideal support act for what is known as the 'Punishment Tour'.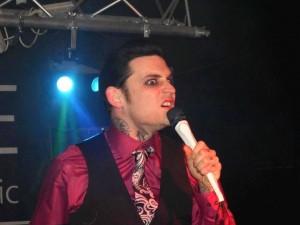 Tonight's headline act comes on stage dressed like he has borrowed clothes from both The Joker and Dave Vanian of The Damned.  It's clear that a bigger venue would have been more suitable for Control. The audience cram in to the front for a good view of the Aiden frontman doing what he does best – running the show. Control reveals he doesn't usually rehearse for tours, the band just show up and play. It doesn't even show, each track is note perfect. The trademark synth sound isn't as dominant but the vocal is spot on.
This is the 'Punishment' tour after all, so a lot of the songs are fitting of the 'naughty' theme: 'My Lady Dominate', 'The Filth and The Fetish', etc. Which should have meant an elaborate stage show a la Alice Cooper, alas it is not. It may be due to the smaller venue or perhaps it wasn't thought about. Luckily it's because he doesn't need any frills and lets the music do the talking.
For those who aren't familiar with William Control's music it is almost a million miles from his work with goth-punk band Aiden. His solo material is more akin to Joy Division or Depeche Mode, rather than Misfits or My Chemical Romance. It's great to see someone is still making this kind of music. Favourites like 'London Town' get the crowd singing along and we get to hear a rare performance of 'Passengers'.
Despite the slight delay there's still time for an encore including a duet with Ashestoangels front man Crilly for 'I'm Only Human Sometimes'. Followed by Control's most recognised track 'Deathclub'. Drawing a line under what feels like a relatively intimate gig, with a strong 18-track set-list. For those in attendance it was ideal.  Next time both Control and Ashes deserves a bigger stage. Let's hope there IS a next time, as these kind of performances are a rare thing.
Photos: Trish Spencer
You can read our interview with William Control here