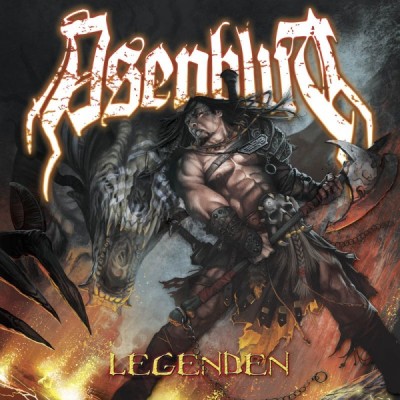 German pagan metal band Asenblut have released Legenden a new EP available that includes the title track, four re-recordings of early material, plus a bonus cover.
Based in Göttingen, the band formed ten years ago and released their debut album Aufbruch in 2009, embracing black metal, thrash, melodic death metal and traditional heavy metal within their sound, followed it with 2013's Von Worten Und Taten, culminating in the Viking metal of 2016's Berserker.
"The music of the title track gave us inspiration for the lyrics and the album title", recalled Tetzel, Asenblut's clan boss, founder and vocalist. "The high pace, the heroic power and the energy of the song immediately lead to strong pictures that were followed by the right words mirroring the force and the madness of the berserker."
Legenden was recorded by Sebastian Levermann's (Orden Ogan) at Greenman Studio, as had been Berserker. Asenblut's line-up being completed by Claus Cleinkrieg (Guitars), Yuri (Guitars), Sash (Bass), Balrogh (Drums). Featuring re-recordings, a cover of Manowar's 'God Or Man' and the new title track Legend is available through AFM Records.