Last year Bring Me The Horizon, Architects, and You Me At Six and many more took to the pitch (yes the pitch! Not the stage!) to raise money for  Hearts and Goals.
Hearts and Goals is a charity that makes sure organisations and sports club have an AED (automated external defibrillator). An AED is an emergency life-saving device that can be used by anyone to restart the heart when sudden cardiac arrest strikes (SCA). They are needed as A person who suffers sudden cardiac arrest will only be in a 'shockable rhythm' for the first few minutes; so immediate defibrillation is vital. CPR alone only saves 9% of people who suffer a sudden cardiac arrest. CPR and an AED used together increases chances of survival five-fold.
This year Soccer Six is back with Deaf Havana, Lower Than Atlantis, Rise To Remain, Kids In Glass Houses, Bury Tomorrow, The Blackout, I Divide, The First, The Safety Fire, Scholars, Take The Seven and many, many more.
Here's how it works: The tournament begins with the group stages, of which the top teams will continue into the quarter-finals, semis and final, until one band is crowned champion. Games will be approximately 10 minutes.
This is something you do not want to miss!
Soccer Six: Rock & metal 2013 takes place this Friday Nov 15 at the London Soccerdome in Greenwich.
Tickets are available from http://soccersix2013.com/rock-metal/ (VIP £20, normal tickets £10)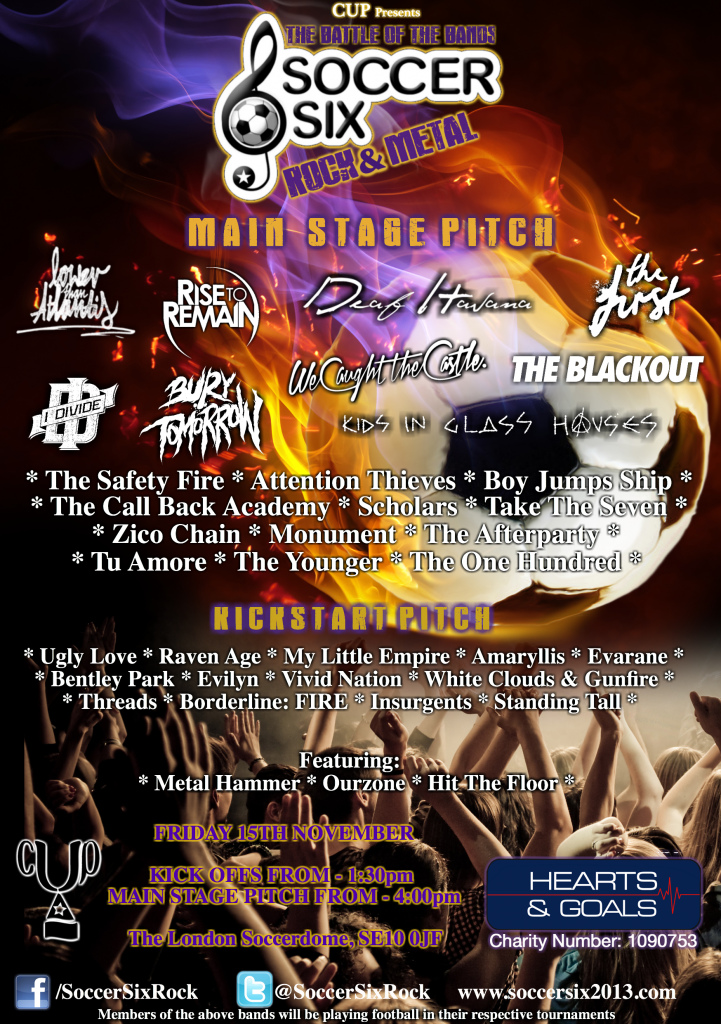 https://www.facebook.com/SoccerSixRock