'Unplugged and Strung Up' is a bunch of new, ferocious interpretations of old Saxon classics. When I first read the title on the album – especially the 'Unplugged' bit – my heart sunk. Why unplug these immense and powerful songs? But don't despair – it's only the last four tracks that are properly 'unplugged' – and even these are as powerful as a mountain bear on amphetamines
In fact, the album kicks off very heavily indeed with 'Stallions Of The Highway'. This is a re-mix of the original song (the track appeared on the band's début release, way back in 1979.) It's as fierce as leopard with his tail on fire. There is a whirlwind of gut wrenching full-throttle speedway heat in every nuance and each splintering chop. The vocals are so hot that they must be running on liquefied methanol … and the riffs are so heavy that they would crush rocks.
After our radiators are left to cool for a while, we get to the next track – an orchestrated version of the incredible 'Crusader' from the album of the same name (1984.) This expansive song yearns to vanquish even greater horizons as it burns itself up in efforts to exalt itself before a higher God. It is a song that is as relentless as it is potent. The orchestration adds a defiant glimmer to the overall sheen – like the glint on a challenger's breastplate. The whole piece becomes glorified in a way that, perhaps, it has never done before. The song tends to dramatize the chivalrous and heroic nature of the Crusader Lord: "Fight the good fight … believe what is right." But the terrible violence – often misdirected towards civilians caught in the fighting – and the pitiful battles (ground strewn with piles of heads, hands and feet) remain forgotten in this call to arms and stirring marching song.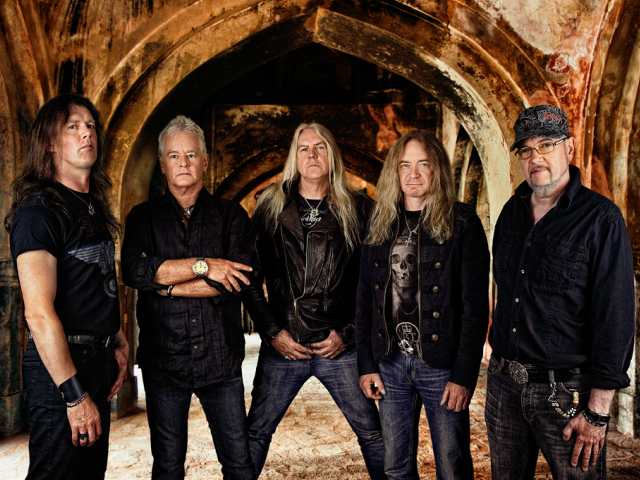 Conveniently, 'Battle Cry' comes next. The rumble of chords shudders like a road reverberating to the sound of a million marching boots. This was originally on the 'Rock the Nations' album 1986. Amazingly, Elton John played keys on that original album (on the "Northern Lady" track and one other.) The track here has a strange moogish synthesized sound that sneaks in towards the latter end. It spirals like a black eel in a noxious soup. And creates an atmosphere of fear and tension. I wonder who played it?
Then we have another orchestration. 'The Eagle Has Landed'. This is Saxon at their 'New Wave' best. Those magnificent words: "Take a giant step for mankind/On a distant lunar sea…" are given grandeur and majesty by the lashings of sumptuous strings. This is British hard rock at its most defiant. The effusive guitar solos start to liquidize during the final moments of this song – no doubt ripping apart your open heart. It will make you cry with gratitude
After two more orchestrated pieces 'Broken Heroes' and 'Call To Arms' we get to 'Militia Guard' taken from that début album (1979.) This was the final track on that first recording, a sabre rattling stunner. After the rat-a-tat machine-gun of drums we hear a distant guitar that sounds like a bugle-call and then the familiar marching rhythms that we have since come to associate with Saxon. There is almost a skirling effect after this – led by an army of swirling guitars – each blending beautifully with the next. After a pause, a lightly strummed acoustic guitar heralds in the main vocals. Biff's voice sounds mature and confident – more robust here than perhaps anywhere else. That unique Oliver/Quinn guitar duel is astonishingly adroit. This is a fully developed and completely rounded composition – more prog-rock than heavy metal in style and substance. It's a track of crazy beauty. And, for us, it is the high point of an enormously exhilarating collection.
'Forever Free' has been re-recorded for 'Unplugged and Strung Up'. It has that riff that will make you curl your lip up and cause your knees to shimmy. And it has that beat that eats into your brain like a cauterizing probe. It also has an acidic guitar that will burn deep into your soft skin causing tantalizing welts.
'Just Let Me Rock' from 'Crusader' has also been specially re-recorded. We love the ghastly gangled pace of this song. It wallows and groans like a wounded giant. The chorus is simplistic 'Just Let Me Rock' but … like an AC/DC number … it's just what you need when you are down. Why make life more complicated than it really is?
'Frozen Rainbow' is the first of the four acoustic numbers. After this is 'Iron Wheels' which is about the huge wheels found on the surface of coal mines. These once cabled cage-fulls of miners into the blackened depths below. This song has a familiar Bon Jovi twang about it and is a composition about heavy industry and toil – so it may serve to remind you that this band are from Barnsley, South Yorkshire – an industrial town centred on a proud mining tradition. Interestingly, the town's name derives from the Saxon word meaning "storehouse." And this is a storehouse of an album.
'Requiem' is from 'Solid Ball of Rock' (1991) and contains the touching lyric "We will remember/ They were born to rock and roll." It's a song to sway to and is made more poignant by this gentle new watercolour portrayal.
The final track is 'Coming Home' which is a salt dusted, whiskey drenched blues number. Sweet and genuine. It comes from 'Into the Labyrinth' (2009) and it's a potent brew of piping hot bottle-neck guitar laced with super-strength, highly strained voice. All this is rippled gently against a thin, shivering tambourine. What a number!
This collection offers a lot for loyal fans of Saxon. It is deep and conscientious. It offers something new in each twist-and-turn. It is sprightly and energetic. It will surprise even the most studious devotee with it's depth of mystery and musical mastery.
More importantly, though, this collection is also a good starting point for any newcomer to the Saxon clan. The music here will be pleasing and engaging to any young person who has perhaps only just started out on their journey into symphonic metal.
Saxon might be the unsung high priests of 'The New Wave of British Heavy Metal' but their productions are still relevant, hard and imperishable. This is a fabulous new compilation from one the greatest rock bands in history. Get it now. And celebrate with them.
9/10
Unplugged and Strung Up is out on November 18th, 2013.