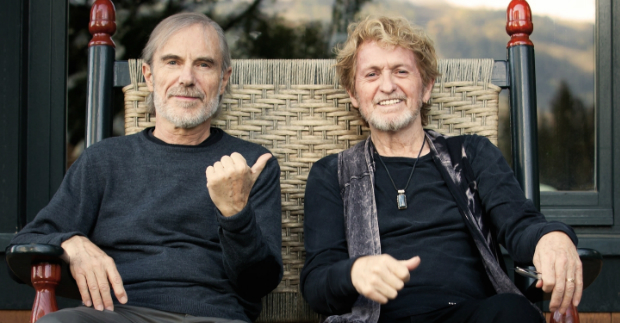 Yes co-founder Jon Anderson and virtuoso violinist Jean Luc Ponty come together as the AndersonPonty Band to release Better Late Than Never through earMUSIC on 25th September.
Featuring a live performance enhanced with studio production Better Late Than Never includes new compositions, rearrangements of Yes classics like 'Owner Of A Lonely Heart', 'Roundabout' and 'Wonderous Stories', as well as some of Jean Luc Ponty's most famous compositions such as 'Mirage' from the top 40 US hit album Enigmatic Ocean given lyrics and additional melodies by Anderson and recorded now as 'Infinite Mirage'.
Aside from being Yes's original singer/songwriter for 35 years (from 1968 to 1979, returning in 1983 for the worldwide hit 90125   until 2008 when he suffered a period of acute respiratory failure). He had also headed the successful renegade spin-off band Anderson, Bruford, Wakeman & Howe, sang on King Crimson's Lizard album and Toto's The Seventh One, co-wrote a song for Iron Butterfly and has recorded over 15 albums of  his own as well as recording and composing music featured in films, on games, and for the ballet. Japan's Kitaro and Brazil's Milton Nascimento are among those Anderson has collaborated wioth due to his interest in new age and world music, though his most renowned collaborations have been with prog rock keyboard superstars: his work with Vangelis yielded two hit singles in the form of 'I'll Find My Way Home' and 'State of Independence', and in 2010 returned to live UK performance playing with fellow ex-Yes member Rick Wakeman.
Jean Luc Ponty was originally approached by Anderson with the idea of working together as far back as the 1980s, but he too lead a busy musical career, his innovatory playing having pioneered the use of the violin within the fields of contemporary music. As well as his own international solo career he has recorded and played with Frank Zappa and The Mothers of Invention, and at various points been involved with two of jazz rock's leading bands: first back in the 70s with John McLaughlin's Mahavishnu Orchestra and in 2011 as a member of Return to Forever, having played with Al Di Meola and Stanley Clarke from that band as The Rite of Strings at intermittent points since the 90s.
On eventually working with Anderson, Ponty said: "Collaborating with Jon who is such a creative singer/songwriter is unlike any project I have done before.  I knew that we had plenty of musical affinities to make it work, but the result is way beyond my expectations. It is also a lot of fun to reunite with these excellent musicians who played with me in the past, they really put their heart in this project and with Jon's creative input we are not just rehashing the past but giving a new life to the music we started developing decades ago."
The band features guitarist Jamie Glaser  who's played with Chick Corea, Bryan Adams and Lenny White; virtuoso keyboard player and composer Wally Minko who has performed and recorded with such diverse acts as Pink, Toni Braxton, Tom Jones, Gregg Rolie and Barry Manilow; Baron Browne on bass has played with Steve Smith and Billy Cobham and Jean Luc Ponty; and Rayford Griffin on drums and percussion has played with Stanley Clarke Band, George Duke, and Michael Jackson. They have all played with Jean Luc Ponty in the past. Speaking of this new combination, under the AndersonPonty Band name, Jon Anderson said: "A breakthrough feeling came as I sang with Jean Luc's music, to be in a band again is very exciting on many levels, we will play and sing our way around the world and have fun, for music is pleasure, music is all that is."
With new arrangements, virtuosic performances and new energy promised on Better Late Than Never there is the added bonus of a CD/DVD version featuring the band live in September 2014 at the Wheeler Opera House in Aspen, Colorado, plus talks of a world tour and further promotional videos in the works for the AndersonPonty Band.