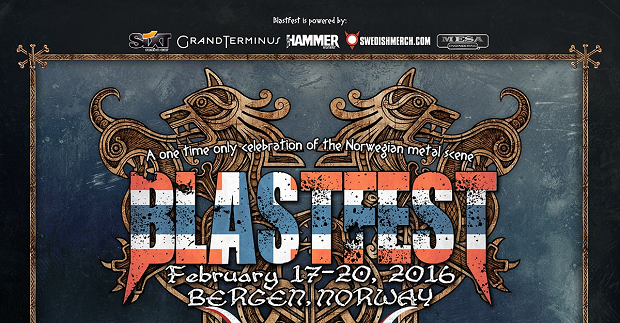 It's been months in the making but the schedule for Blastfest 2016 has been finalised and we can safely say that it's pretty bloody AWESOME!
Now in its third year, the Bergen festival has not only put together yet another incredible lineup, but also one in which will be a one-time only celebration of their national metal scene, one of the most influential countries in the world for metal, and the home of black metal, Norway.  A 100% Norwegian lineup which includes the likes of Abbath, Arcturus, Taake, 1349, Gorgoroth and even some rare appearances from the likes of Green Carnation. Blastfest 2016 promised to be a truly unforgettable occasion.
Blastfest chief and owner Yngve Christiansen had this to say on the upcoming festivities: "2016 will be a very special festival edition with a lineup consisting solely of Norwegian bands. The bands represented at Blastfest are the legends, those from the beginning, the ones who made it evolve… the ones who disappeared… the ones who never stopped… the ones whom you should have heard more about… and the ones you will hear about. We have done our best to make a strong lineup representing Norway in the best possible way."
We have provided the all essential line-up and dates info for you below:
A One Time Only Celebration Of The Norwegian Metal Scene!
Blastfest 2016 – Bergen, Norway
17 Feb – Garage, 18 – 20 Feb – USF Verftet
***Wednesday 17 February***
Garage – Doors open 17:00 – Show starts at 18:00
CHROME DIVISION / MISTUR / SVARTTJERN / VOLUSPAA / ENDEZZEMA / BLODHEMN / HADENS
***Thursday 18th February***
USF Verftet – Doors open 15:00 – Show starts at 16:00
GORGOROTH / TAAKE / IN THE WOODS / DØDHEIMSGARD / KAMPFAR / THRONE OF KATARSIS / VIRUS / NOCTURNAL BREED / VIPER SOLFA / VULTURE INDUSTRIES / EXECRATION / GRAVDAL / INCULTER / TROLDSKUGGE / REPTILIAN
***Friday 19th February***
USF Verftet – Doors open 15:00 – Show starts at 16:00
IHSAHN / 1349 / ARCTURUS / MANES / SOLEFALD / NEKROMANTHEON / DJEVEL / FUNERAL / ONE TAIL, ONE HEAD / AUDIOPAIN / THE 3rd ATTEMPT / COR SCORPII / KRAKOW / SULPHUR / SLEGEST
***Saturday 20th February***
USF Verftet – Doors open 15:00 – Showstart 16:00
ABBATH / GREEN CARNATION / RED HARVEST / EINHERJER / KHOLD / ANCIENT / CVLT / BLOOD TSUNAMI / ALLFADER / EVIG NATT / EL CACO / IN VAIN / SAHG / VREDEHAMMER / OSLO FAENSKAP
And if that wasn't enough, there's still Sightseeing, DJs, Signing Sessions, Exhibition, Markets, Merch and  much more to be announced. You lucky devils.
Tickets are on sale right now and are available here: http://www.billettservice.no/artist/blastfest-billetter/932474
You can also book accommodation at the official festival hotel www.augustin.no using the promotion code "BLASTFEST" for a discounted rate.
Be sure to check out the festival's social media pages via the following links:
www.blastfest.no
www.facebook.com/blastfestival
www.twitter.com/blastfestnorway
See you in the pit!