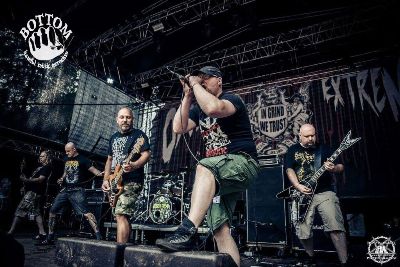 Polish grindcore/death metal pioneers Bottom have released a brand new mini-album, entitled Epidemo, through Deformeathing Production that is available both on CD and digitally.
 Epidemo follows on from the well-received Psychofilia full album and includes six brand new tracks, a lock-up cover and one re-recorded song from the band's 2003 demo, 'Hateful Music Terrorism'.
Around for over 20 years, Bottom work as a melting pot of music genres, mixing grindcore and death metal with thrash metal and hardcore/punk inspirations. New mini-album Epidemo promises more of the same with "Ear-splitting guitars, unconventional, dense drums, a bass strike that tears out guts and two extremely angry vocalists". It was recorded at ZED Studio under the direction of Tomasz Zalewski, while St. Chaos Art's Marcin Studziński handled all graphics.
Bottom recently appeared at Obscene Extreme Festival and have just released 'Replika' as a new music video in support of Epidemo. You can watch it here at Ramzine.