Connor Bracken and The Mother Leeds Band is based in New Jersey. Asbury Park to be exact. Both Bruce Springsteen & The E Street Band and Southside Johnny & The Asbury Jukes sprung from the same neck of the woods, so how you structure your band name seems to be pretty important over there. Likewise, reclaiming the essence of rock 'n roll and making it count could be an ethos they all cling to.
Well, yeah, the PR spin seems to say that, and the blue collar look in their photos seems appropriate, and well frankly I wasn't expecting that much. Thus while three chords and a pentatonic scale might be the source of this music, Connor Bracken and The Mother Leeds Band add dynamics while hinting at a darker underside than just a Happy Days revisited scenario.
They debuted in 2016, Nightbird Motel is their latest full-length player. The songs were all written by Bracken, who also sings, plays lead guitar and co-produced with Dan Malsh. That latter aspect is possibly the key to what makes this record work for me. The music's roots may lie in the late 50s but the sound is modern, contemporary and offers different shades of tonality will always allowing the drumming to kick life into the the songs presented.
Those skins are beat by Rich Seyffart, with The Mother Leeds Band rounded out by guitarist Jeff Linden and bass player Chris Dubrow all of whom supply backing vocals. There are also additional musicians on various tracks.
The record kicks off with 'When The World Stops Turning' and it's the closest to what I expected the album to sound like. A Flaming Groovies punk vibe prevails over staccato riffs ricocheting out from razor edged guitars. The lazy strolling rock of the knowing 'Read On You' follows and while it's cute in a Pretenders manner but increasingly one feels there's more of The New York Dolls, while vocally there's something of a sneering bad glam boy of old, like the late Nigel Benjamin of Mott or Silverhead's Michael Des Barres, though I daresay Bracken himself would find such comparisons incredible, and the influence non-existent.
And yet that sniping gob is present on 'Darkness' too. A broken chord Spanish vibe gives way to driving rock with stark chords struck through. All quite Mink DeVille prior to screaming angst-filled vocals leading us into a shooting gallery guitar solo.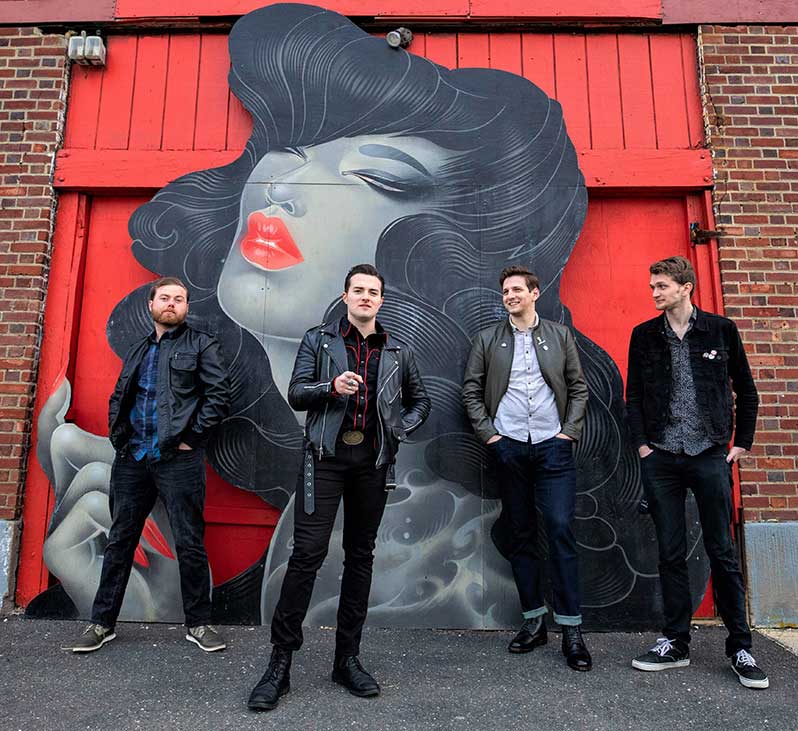 'Photographs of Johnny Cash' is not the country-picking tune one might expect, rather balancing itself on an off-kilter riff to relate a story in song wherein the similarities of Cash's name being appropriated find their way. Where the album had me initially listening with greater interest was 'Blame on Me' as the more schizoid paranoia underlying some of the songs is readily apparent here.
Warm feedback resonates, there's a piano like sharpness to the attack of the electric guitar and Bracken sings ominously of driving somewhere unspecified, and for reasons not readily explained, through the night. The music changes, oozing out like a molten slab of downer psych rock, heavy on the bass, a tale of jealousy implied as it churns all-encompassing on gothic.
By comparison 'Liquorstore' is readily apparent in its Friday night singalong quality. That those readers of a certain vintage will think the melody sounds a lot like the theme to UK Kids' TV show The Double Deckers makes it all the more pleasantly nostalgic.
'Voice on the Radio' imbues the qualities of both the last two songs. Laid back night time cruising rock with a touch of mournful menace sliding in with Detroit-era Alice Cooper band quality, a guitar solo weaves, becoming entangled before splintering and fading as a bass line and metronome effect take precedence. Then, there's distortion and a veritable car crash of sound, Bracken repeating the line "I'm the voice on the radio" while backing chants out "whoa-whoa" before it all becomes anthemic as it returns to the main song theme.
For want of another term, 'Nightbird' proves to be something of a power ballad in form, despite loud slashing guitars and booming drums and lyrics that defer to other subject matter than the usual jilted love. On the home run, a warm resonating hum leads into vocals for 'Dream of You and Me' then a shift as the band enters on a steady galloping rock number that is about the things we do for love. Finally, gently, waving us goodbye we have 'Reprise' an acoustic instrumental version of 'Read On You'.
So, don't judge a book by its cover, there's more of an earthy urban trash rock mood to this collection than one might expect.
Connor Bracken And The Mother Leeds Band – Nightbird Motel is available by clicking here.