As those in the stoner/doom/psychedelic scene are more than likely all too aware, it was sad to hear the news that the premier festival that caters to our tastes, Desertfest London is no longer taking place in Camden this year. Despite several attempts to look at other options, the decision has been made to cancel the festival that was due to feature headline acts Masters of Reality, Blue Pills and Graveyard on the main stage and a whole host of other favourites across several other venues, along with closing off and taking over Greenland Place making the Black Heart the perfect venue to grab a pint and meet everyone.
It should be no surprise considering the veracity Covid-19 has taken the World by and safety of everyone is paramount, and even working with the Desertfest Berlin team, it seemed impossible to fit a rearranged date in the year. The team has worked at every angle tirelessly, and considering the festival is completely independent of any investors, corporate sponsors or financial backers, it really has hit hard. There isn't a fanbase quite like the desert scene and if ever there was a festival that fits the moniker 'For the fans, by the fans,' this is it
For the team to compensate for this, they have set up a few options for those with tickets or planning on buying tickets already.
Firstly, Keep your ticket. 2019 ticket holders will find their tickets honoured at Desertfest 2021, set to celebrate their tenth birthday, they are looking to make for the best one yet and those keeping their tickets will find themselves in a far better position financially to prepare for this. Ticket holders will also receive a free Desertfest patch in the coming months, and also exclusive merch at Desertfest 2021.
The second option. 10 Year Anniversary Voucher. Much like the first option, this will be a huge boost to the festival in supporting them, this option acts effectively as a super early-bird ticket release, and who doesn't like getting early bird tickets?
Lastly, Refund your ticket. Times are difficult for everyone and it is fully understandable that people may be keen to get a refund. The Desertfest team are completely understanding of the situation and predicament people are in and the ticket will be refunded in full at your point of purchase by contacting Dice who will be able to assist you through this.
There comes another option for those that just want to show their support and try to help Desertfest through these times, and there is a donation option which can be found here and with donation options comes the choice of free merch depending on how much you donate as a way of thanks.
It is a sad time to see such a fantastic festival cancel, it isn't the first and likely will not be the last, but the small team of three behind it sign off in their own way to all.
"This cancellation affects not only the three of us but our amazing line-up of artists, please support them by buying music and merch directly from their sites. We also want to extend our love to our huge and incredible crew of stage managers, merch sellers, photographers, writers and so many more – all of which we can't wait to hug and drink a pint with next May.
Thank you so much for your understanding, support and kindness at this time. We are nothing but a small team of people wanting to bring joy to other music lovers. Please stay home, safe and healthy. We can't wait to see you in May 2021.
Much love,
Desertfest London – Reece, Jake & Sarika"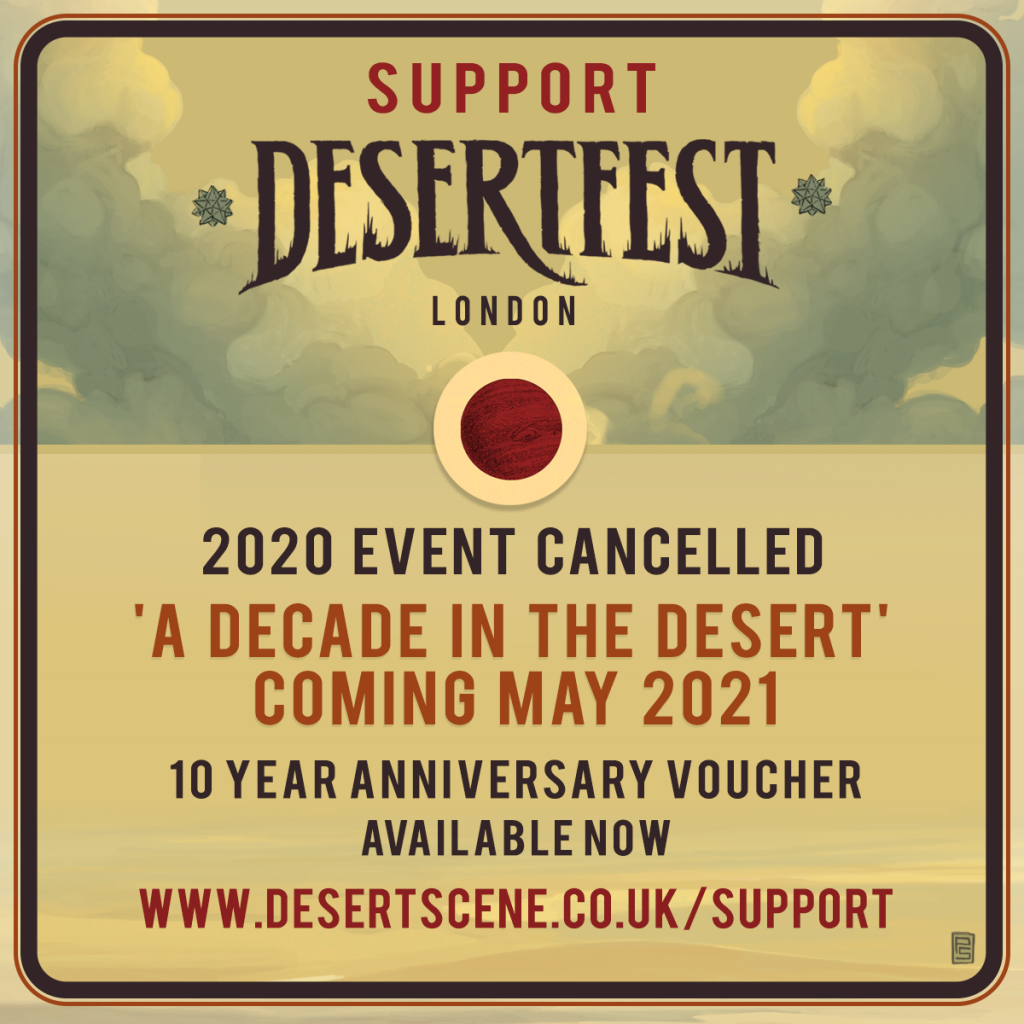 We look forward to seeing them again in 2021 and celebrating that tenth birthday with quite simply, the best crowd and family music has to offer.