Goth-rockers Fearless Vampire Killers have released a new video for their latest single 'Neon In The Dance Halls':
This is the debut single from their forthcoming record, entitled 'Neon In The Dance Halls' via the bands own label Goremount Records. The track features an appearance and vocals by former Aiden front man William Control. FVK's latest album was also recorded and produced by Control.
Kier (vocals/guitar) comments; "As soon as we wrote this song we knew it needed to be the first single from this album… it just encompassed everything that we wanted to achieve. It's Melodic but ballsy. Heavy but also has a sense of fun… the album is designed to take you on a journey and I think this song is a mini-one!"

Kier continues; "We're really excited about this video as it was certainly our most ambitious yet! We sourced an old chapel in Southampton that also happened to be a dance hall. Within this setting a rather twisted love story unfolds between an innocent girl and a rather handsome Vampire… we've been sure to give it an unconventionl twist though."
This follows the launch of Obsidian Bond, the band's new social network designed for fans of FVK. Fans can subscribe for exclusive content,  including a new track each week from their new album.
http://fearlessvampirekillers.com/obsidianbond/
The band have also announced a Halloween headline show ('Cabaret Of the Damned') at The Dome in Tufnell Park on November 1st. There will be a huge amount of special performance's including magicians, dancers and many other tricks up their sleeve's throughout the evening.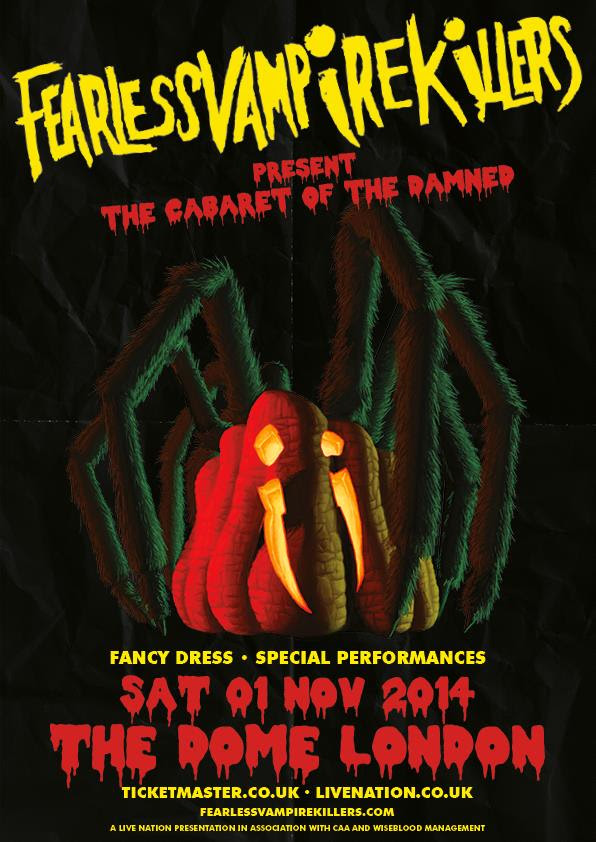 –