French guitarist Félix Rabin releases his debut six track EP Pogboy on Friday 17th April.
Recorded in Los Angeles last June, Rabin enlisted the services of recording engineer, Ross Hogart (Van Halen, Ziggy Marley, REM) who is in part responsible for the EP's title.
"While I was recording those songs, there was one guitar pedal effect that I ended up using a lot called the Pog," Rabin noted. "Ross as ked me why I was using so much of this effect on almost every song. I told him that I just really liked it. That's when Ross came up with the nickname Pogboy.
"This is a great achievement and a huge project for me," he continued. "I have been working hard on the recordings for over a year.  This is only the beginning."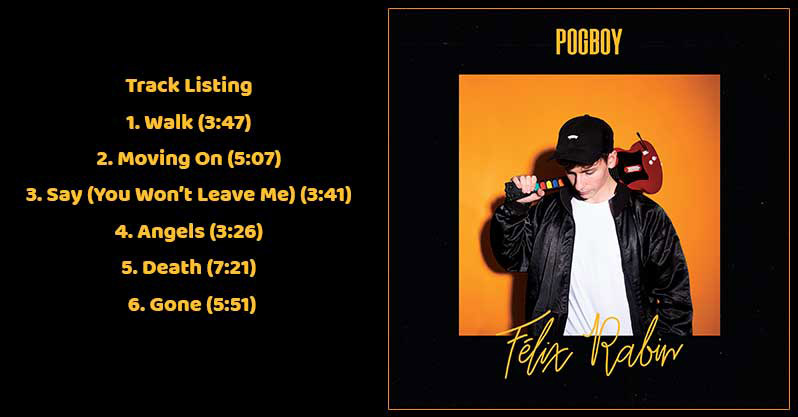 If it is, it's shaping up rather well this year, with him already having won Best Act at the UK's Giants of Rock Festival last month, and already been invited back to play the main stage next year.
The Brittany, France raised, Switzerland based 24-year-old singer-songwriter and guitarist was inspired by musicians like Jimi Hendrix, Gary Clark Jr. and Pink Floyd. His style is said to embody those influences with" inventive riffs, moody melodies and stunning guitar solos – It's contemporary blues-rock at its best."
But then you may well be aware of that already, his first having appeared as special guest on the Wishbone Ash 49th UK Tour to a warm reception and subsequently making solo British appearances throughout 2019.
Félix Rabin will be back here as guest on Samantha Fish's that kicks off at the end of this month. Dates of which can find both below, with more information to be found at RAMzine by clicking here.
The Pogboy  E.P. is available for pre-order by clicking here.