Fish, the Iconic Scottish singer, songwriter and ex-Marillion frontman has announced new tour dates during April as part of a re-scheduled series of European shows. This follows on for the massive success of the 'Farewell to Childhood Tour' in December 2015 which included not one, but two sold out performances at the London Islington Assembly Hall.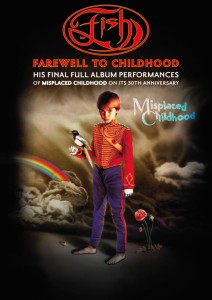 The 'Farewell to Childhood Tour' took Fish across Europe performing the 1985 charter-topping 'Misplaced Childhood' album by Marillion in full for the very last time. Due to unforeseen circumstances however, a select number of shows through Holland and Germany need to be re-scheduled. Rather than make things easy and do on a few dates to make up for those missed, Fish have decided to add further dates giving loving fans that missed out on the December tour the chance to catch one last show.
17 dates have been announced including the re-scheduled dates, with 6 being UK shows with one being a return to the twice sold out London Islington Assembly Hall on April 29th. The final date and performance of 'Misplaced Childhood' at the already sold-out venue, The Robin in Bilston, May 1st.
FISH EUROPEAN LIVE DATES
09/04 – Newcastle, 02 Academy
10/04 – Nottingham, Rock City
11/04 – Aylesbury, Waterside
13/04 – Koln, Essigfabrik
14/04 – Rendsburg, Nordmarkthalle *
15/04 – German date (details TBA soon)
17/04 – German date (details TBA soon)
19/04 – Amsterdam, Melkweg * SOLD OUT
20/04 – Tilburg, 013 *
22/04 – Groningen, Oosterpoort *
23/04 – Haltern, am See *
24/04 – German date (details TBA soon)
26/04 – Karlsruhe, Tollhaus
27/04 – Luxembourg, Centre Cultural Dudelange
29/04 – London, Islington Assembly Hall
30/04 – Salisbury, Town Hall
01/05 – Bilston, The Robin SOLD OUT
*Re-scheduled show
UK tickets are all priced at £27.50 and available from the usual outlets.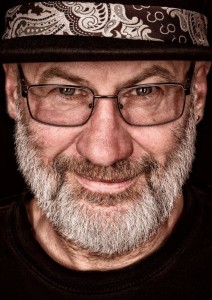 Fish has begun the release of all re-mastered albums from the huge back catalogue of solo full-length releases, with 8 due for release through 2016. The first three 'Sunsets on Empire', 'Raingods With Zippos' and 'Fellini Days' are available now, all with previously unreleased demos and live recordings, and will be available to purchase exclusively on the merch stalls throughout the Farewell to Childhood Tour' as well as the Fishheads.club mail-order service.
All remasters will be repackaged and reborn in hardback covered books (140 x 126mm) with three CD wallets inside, and 48 pages of original illustrations, artwork and photos. Each album will come with high detailed sleeve notes giving the background of each album, the stories behind the lyrics, the writing and recording sessions, and the touring/band line-ups that were involved. Each album alone will soon be a treasure worth having for any fan.
Each release will be £16.99 + VAT.