'Black Sheep' (Remaster) – This track has enough bite for the listener to be totally engulfed as the thrash becomes apparent. Its bite is definitely just as good as its bark. It instantly allures and feeds on the metal soul.
'Exit Life' – Smoulders as it gets into its niche and ravages with blinding riffs and sizzling beats. It's swift and unforgiving as it battles to make its mark. Rowdy and fuelled with contagiousness.
'No Reprieve' – is beguiling as it rumbles to its destiny. Fast and furious it finds its feet and leads us all on an exciting trail that you don't want to end. It is a beast of track that pulverizes from all angles.
'Requisition' – Giving the bass a spot of its own this track has a certain amount of deliberate preciseness that is used to the full. Vocally challenging it's harsh and tenacious with super charged with volatile persuasion.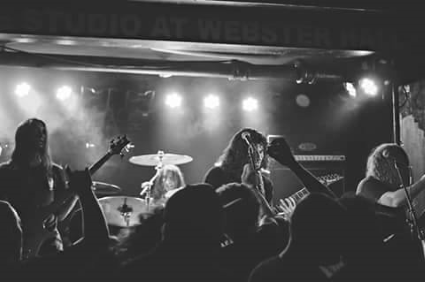 'Sledge' – Shows the bands creative side as it mesmerically torments and teases the audial with lively and energetic persistency. The raucous vocal enhances the track as everything comes together in a spidery web of chanting savagery.
'Through Death Ridden Fields' – This track is a slow and ambient in delivery as it meanders to its goal. The strings glide over the senses and it leaves the listener refreshed with an unexpected caress.
With the thrash element injected into the tracks it really gives the listener something to feed off and add in a bit of death metal for good measure it just has the right amount of rousing creativeness to be a winner.
It simply flows like a lava flow in full pelt, wistful and stirring it gathers its energy from well-crafted rhythms that enchant and beguile and leaves a lot to the imagination.
Within its hardy tracks it warmly engages and through its ferocity injects a solid proposal of sheer onslaught to the metal masses.
I think Sledge for me is the perfect track, as it holds plentiful rhythm in abundance as from it, leaks a delicious excitement. Vocally thorough and pitch perfect the chants are moreish and it soon becomes clear it blossoms into a fierce track from which there is no turning back!
It will have you reaching for the repeat as the thunderous riffs and unyielding beats rain down in quick succession to reveal involved and flowing grooves that are loaded with a rife cocktail of metal!