Three years after their critically acclaimed debut  Pictures of You, keyboard player Geoff Downes (Yes, Asia) and singer/songwriter Chris Braide (This Oceanic Feeling) have come together for the second chapter of their joint venture as the Downes Braide Association (DBA), with Suburban Ghosts to be released on 6th November through Cherry Red Records.
Suburban Ghosts was inspired by both of their upbringings in the North West of England, and is said to reflect the balance between its beautiful varied countryside and grey industrial wasteland.
Singer songwriter and producer Chris Braide has written and produced songs for Beyonce, Lana del Rey, Paloma Faith, Britney Spears, Christina Aguilera, David Guetta, Sia, Afrojack and Marc Almond's latest album The Velvet Trail; in his accomplished career he was awarded Ivor Novello, ASCAP and Billboard Awards. Geoff Downes shot to fame as keyboard player in The Buggles, subsequently joining Yes for the first time before moving onto Asia, and now plays in both successful bands. He has co-written the hits 'Heat of the Moment' and 'Video Killed The Radio Star'.
It was at The Buggles' reunion show in London back in 2010 that the pair crossed paths crossed for the first time. From there, with Braide busy working with both Paloma Faith and Lana del Rey and Geoff recording the Yes album Fly from Here, it took a year of secret moonlighting sessions to create Pictures of You and following the recent debut of Braide's debut album with This Oceanic Feeling and Downes' touring with Yes, the duo somehow made time to record Suburban Ghosts.
"Suburban Ghosts is an album about isolation and loneliness in small town suburbia," Chris Braide explained. The story goes back to his and Geoff's childhood in the small county of Cheshire in the North West of England: with its beautiful, varied countryside landscapes in contrast with grey industrial wastelands, feelings of claustrophobia led them both away looking for a new adventure and those sentiments of nostalgia as they come back to a town populated with the ghosts of their past. "A blank town under a sky full of stars, the same blank town you left behind," continued Braide – "Now everyone has long gone, you're haunted by images of those former frost covered school gates and the laughter of children in the park and of the lovers you had once loved. The alternative life you could have lived. You see a photograph that reminds you how fragile we are. Somebody close to you whom you should have been there for. But it's too late to go back now. It's time to let them go, those suburban ghosts."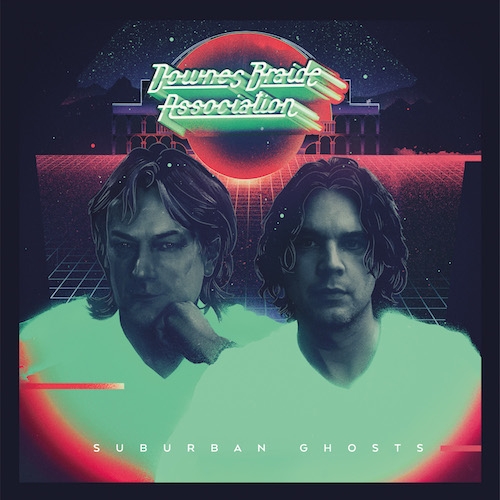 "He never ceases to amaze with his application to the finest detail," said Downes of Braid. And as on our previous collaboration Pictures Of You, I once again provided him with the musical fabric and raw materials, and from that point he has manufactured and polished our latest gem with the precision of a Swiss watchmaker."  Talking more about the creative process and influences behind Suburban Ghosts, he adds "Of course, the massive history of the thriving 60s, 70s of the music scenes of both Liverpool and Manchester cannot be ignored and would be indelibly stamped on all of us, right the way from The Beatles to 10cc. But that's only a small part of the picture… I find it is quite difficult to describe in words as it's a natural creation that comes from our collective hearts. Sure, some might say: technopop, 80s, electronica etc, but to us it's much more than a label. This music is made with love. It is a true joint project."
Thus on their second record the Downes Braide Association journey back to the land of their childhood, reliving memories and putting their suburban ghosts to rest on the following tracks: 'Machinery Of Fate', 'Suburban Ghosts – Parts 1 and 2', 'Suburban Ghosts – Part 3', 'Vanity', 'Number One', 'Interlude', 'North Sea', 'One Of The Few', 'Time Goes Fast', 'Live Twice', 'Dreaming of England' and 'Finale'.
To pre-order Suburban Ghosts click here.