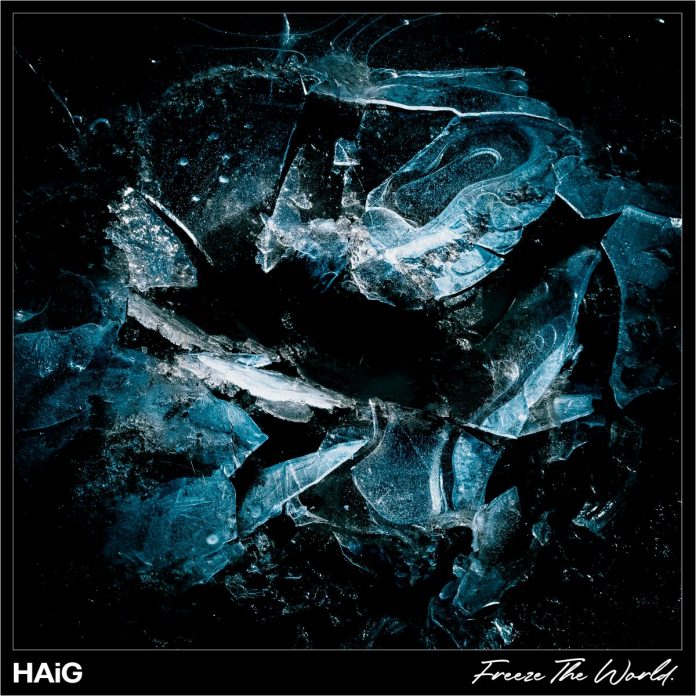 HAiG release their debut EP, Freeze the World, digitally and on vinyl through Golden Robot Records on 25th September.

Fronted by Billy Bibby formerly of Catfish & The Bottlemen, alongside Carl Rutherford and Joe Mooney they produce what is best described as an explosive, melodious rock n roll sound with a hint of alternate flavour.

"Me, Carl, Joe, & Tom (before he left in Jan) have all put our heart and soul into this EP," said Bibby, "And we are all proud of the final result as a band considering only 12 months ago, we formed from the ashes of our former bands. We feel that over that time we've grown our sound into what we now consider the signature HAiG sound for our band and what personally gives us the euphoria feeling when we blast the songs out live to people."
He then went on to talk about each of the tracks on Freeze The World.

"We open the EP on 'Never Enough' which was the secondsingle we released, and this one only took a matter of days for me to write fully and be happy with the result. Some take a lot longer but this one did seem to just flow out and it is our heavier track on the EP. But whilst it's heavy, we also think it has one of the more catchy choruses so we thought, although not an obvious choice as a single, that it would still make a big impact and just show people more what we're about if you came to see us live too.
"The second track up is a slightly grungier number called 'Just Like The Others'. I had been working on this track before I came into contact with the band but had it been on the side-lines waiting for the right time. I think our sound matched it when we started rehearsing it as a band and it was the first one we properly learnt together. I think the lyrics are more the hook in this song because the title is a contradiction on what the actual song means. It's about finding someone who isn't like all the others and what that person's qualities would have to be for a compatible and good relationship. I was basically wishing for that at the time. Luckily, I've found that now, so it makes more sense to me as a song too.

"The third track on the EP is the first single we released via Golden Robot Records 'Did I Just Make You Smile?'- Which wasn't an instant stand-out song when I sent the lads a demo version of it for them to hear. It wasn't until we got in the studio and put all our instruments behind it that we knew how big and epic we could actually make it. Then recording it with Dave Pemberton made even more an impression on us when we listened back to it for the first time at the sound desk. Although a close call, that's my personal favourite from the EP and I think possibly the lads too.
"The fourth track is 'Our Times'and whereas the first song didn't have as good a feeling with the lads when I first showed them it this one did. It had the ingredients we felt to be the lead single from this EP campaign but in some ways, we wanted to save this little number for the EP and put out the less obvious ones first. This song was actually inspired by the ABBA track 'Mamma Mia', believe it or not, I just like the chord progression in that song and tried to work it into my own band's sound and song. Lyrically, it tells the story about our times in the present and that we should be thankful that we live when we do in a world where we have every bit of help at our feet to get on with life and have a good time whilst we're here. Along with also trying not to dwell on past events and live for the present with the great group of lads I have now in this band!
"And finally, to end on we have 'Freeze The World'. The title track of the EP and closer. We always finish with this one live, so we thought it only suitable to finish the EP on this track too. I wrote this song a while back and lyrically it's a little bit of an imagination type song really going into the depths of a sort of muse kind of feel but without the topics of actual space and all that jargon being spoke about. It's still more down to earth than that but we like the fact that it transcends into something that gets bigger and bigger as the song progresses. Fleetwood Mac were also a big inspiration writing this song myself and I kind of look at it as a more aggressive and heavier version of 'The Chain'. If it's half as good as that song I'd be happy anyway so hopefully we did it justice on the recording!

"We all hope you enjoy the EP and thanks to whoever buys and listens it!"

You can pre-order/pre-save Freeze The World here.