Hammerfest 7 have just announced that on Saturday March 14th 2015, its sister brand HRH will host a special HRH Stoner Rock Stage.
Bands set to perform on the HRH Stoner Rock Stage include the already announced acts Sahg and Hang the Bastard. Joining them are PIST, The Admiral Sir Cloudesley Shovell, 7 Weeks, Sigiriya, Sedulus, Steak, Phase Reverse and In the Hills.
With so many great bands already on this line-up we are shocking if you don't have your ticket yet! For more details and tickets go to www.hammerfest.co.uk or for tickets call 08700 110034.
Check out Steak with their video 'The Butcher' here:

Hammerfest Line-up so far:
Kamelot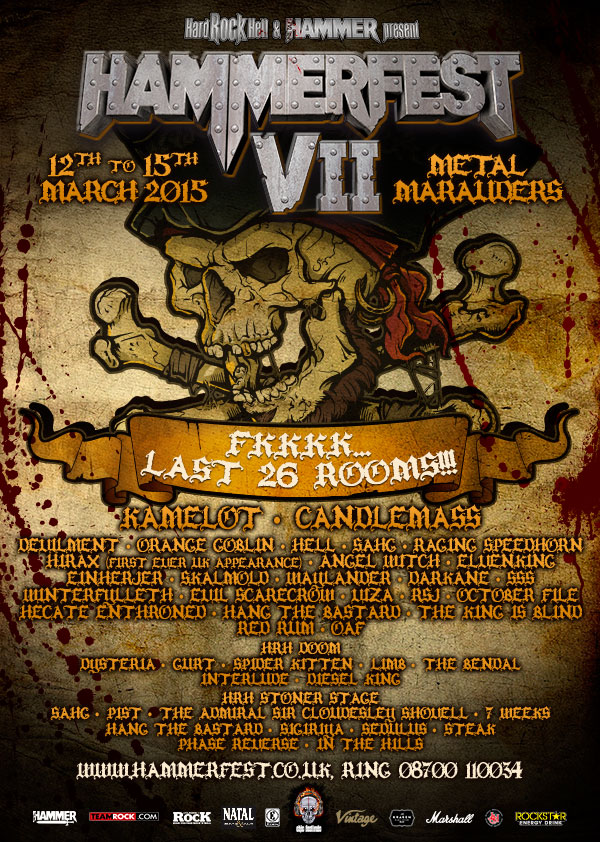 Candlemass Devilment Orange Goblin Hell Sahg Raging Speedhorn Hirax (First ever UK appearance) Angel Witch Elvenking Einherjer Skalmold Waylander Darkane SSS Winterfylleth Evil Scarecrow Viza RSJ October File Hecate Enthroned Hang the Bastard The King is Blind Red Rum Oaf
HRH Doom
Dysteria GURT Spider Kitten Limb The Bendal Interlude Diesel King
HRH Stoner Stage
Sahg PIST The Admiral Sir Cloudesley Shovell 7 Weeks Hang the Bastard Sigiriya Sedulus Steak Phase Reverse In the Hills