Blues rock guitarist Philip Sayce's latest album is a kaleidoscopic soundscape capturing an authentic classic feel to which is often added a thoroughly modern in-the-pocket delivery. But then, Dave Cobb is the man of the moment for capturing that kind of vibe, having also produced Rival Sons and California Breed to critical acclaim in recent times.
Released as a limited edition double vinyl album, CD and digital download on the Provogue Records label, the aptly named Influence taps into  a rich vein of Stevie Ray Vaughn, Jim Hendrix, Eric Clapton, Mark Knopfler and Jeff Healey, all guitarists Sayce came to admire as a youth growing up in Canada, after his parents had moved out from Wales. "I still have distinct memories listening to those incredible musicians" said Sayce. "Their music had a huge effect on me".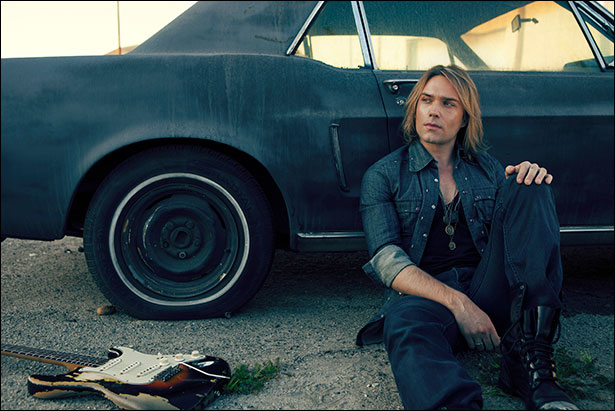 You can dig a whole lot more obscurely as 'Tom Devil' opens the album with a mournful work song chant over a simple freaked-out beat like some 60s San Francisco head band that then suddenly channels the early riffage of Black Sabbath. It's loose, breaking down into a feedback narrated solo with another guitar running interference sliding up and down the fretboard before returning to its cotton picking blues origins. "That song is about paying tribute to often forgotten roots of where modern western music originates" Sayce said. "My intention is to move away from flavour of the month and to reconnect with spirit." Be that as it may, the message comes as an afterthought to the listener, happily bludgeoned as they are by its overall stoner blues rock.
Changing pace completely but still resolutely standing time fixed in the 60s, the heavy upbeat rush of the Jimi Hendrix Experience comes to light over a wah-wah riff and hi-hat crashing drum ride. Your foot taps to its adrenalin rush, even as the band break out into the solo that's an all bleeping 'Crosstown Traffic' car crash with ravishing guitar runs and bitter note pinching squeals, as Sayce has fun paying homage. That it then folds into a pretty cool blues funk on-the-beat rendition of Little Feat's 'Sailin' Shoes' keeps you on those proverbial toes by the diversity of it all. Sayce's voice is Southern soulful, there's some backing vocals that add to that and a brief walking an' talking blues solo before the trashy gonzoid blues rock of 'I'm Going Home' stomps all over it with classic Yardbirds flavoured psychotic lead runs and power chords, 'Blues Ain't Nothing But a Good Woman On Your Mind' plays it straighter. 'Green Power' brings back the funk as Sayce sings "Money can't buy you love" Lenny Kravitz style on what's credited as being co-written by Little Richard of all people; well it's got that maestro's sexual grunt digging into it that's for sure, plus a couple of tasty Clapton influenced guitar solos that extend beyond the standard blues scale.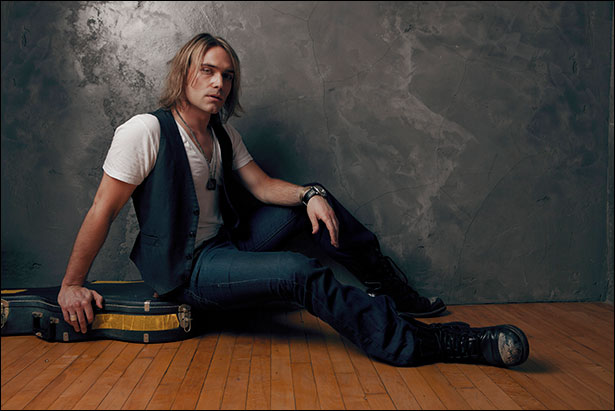 Ballads and songs structured in a full-on 70s rock manner prove rewarding listens. 'Fade Into You' is one of several co-writes with Cobb, who also plays bass throughout, that opens slowly with a ghostly echoing organ refrain, proceeds to build into a minor epic then concludes with an extended guitar solo that has Sayce rapping and howling away over it. "It's definitely one of the heaviest songs, if not the heaviest song on the album," Sayce declared. "It comes from a very hurt, sad, dark place. It's about being screwed over in the music business." Coming with a similar lyrical warning is a cover of Graham Nash's 'Better Days' "Such a beautiful composition" Sayce said, and he's right. "That song is so underground and it connected with the head space I was in." Live this has the potential to become quite an epic.
There are more potential commercial crossovers in a funky Hendrix-Kravitz  manner with songs like 'Easy On The Eyes' and hard-on rockers like 'Evil Woman' both of which feature wonderful gospel wailing backing and harmony vocals by Kristen Wynans. But almost hidden in between the thirteen song set is an instrumental, 'Triumph' – its chord patterning reminiscent in part to Rainbow's 'Catch The Rainbow' it's the searching controlled lyrical fury of the lead lines that proves so evocative capturing the singular expressiveness of a Kossoff or Pete Green. A departure from the fuzz and soaring feedback vintage tones that sifts in and out of Influence, but like most of those other tracks, more than worth a casual listen or two.
7.5 /10
Philip Sayce 'Influence' is out August 25th via Provogue Records.