Canadian thrash revivalists, Havok, have unveiled the new video entitled 'Phantom Force'. This is the first single taken from their new album V.
Check out the video below:
The new album, V, will be released on May 1st via Century Media Records.
Havok's lead shred – Reece Scruggs – had this to say about the track:
Somewhere in the middle of writing "V" we all came together and made the decision that we needed a full-blown face peeler track. I remember David saying "Reign In Blood tempo", so I came up with something almost immediately and sent it over to the guys. And aside from some subtle stylistic details, it stayed pretty true to that original concept. "Phantom Force" as a first single will assure our fans and skeptics that we haven't lost a step in making vicious, straight forward, non-gimmicked heavy metal."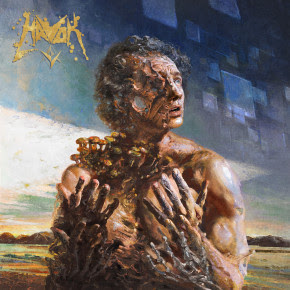 The tracklisting for V below:
Post-Truth Era
Fear Campaign
Betrayed By Technology
Ritual Of The Mind
Interface With The Infinite
Dab Tsog
Phantom Force
Cosmetic Surgery
Panpsychism
Merchants Of Death
Don't Do It
The album will be released in these editions:
Clear vinyl: 300x (CM Distro / Webshop Europe)
Light blue vinyl: 200x (EMP & Nuclear Blast in Europe)
Neon yellow vinyl: 200x (Band exclusive in Europe)
White vinyl: 200x (Revolver Magazine USA)
Crystal clear and coke bottle swirl vinyl: 200x (CM Onlineshop USA)
Sea glass vinyl: 300x (Indie Stores via CM USA)
Transparent yellow & transparent blue splatter vinyl: 300x (Band exclusive in North America)
Check out what Reece Scruggs said to us when we caught up with him at Bloodstock 2017, click here.