Planning well ahead, next year will see the Howard Jones Acoustic Trio embark on a 13-date UK tour, with the opening night taking place at The Bath Forum on 14th October 14, 2022.
The tour will showcase an intimate stripped-down trip through the musician's colourful 30-year music career, wherein he's sold over eight million albums worldwide.
First bursting upon the contemporary music scene in 1983, with his very English song-writing and pioneering synthesizers, scoring hit singles along the way. He continues to make new music and tour the world. He recently performed on NBC's top-rated morning and night-time television shows respectively, Today and The Tonight Show (the latter hosted by Jimmy Fallon), and has performed as part of the Ringo Star All-Star Band.
Alongside Jones on electric piano, will be guitarist Robin Boult, renowned for his work with The Who's Roger Daltrey, former Marillion vocalist Fish, and The Eurythmic's Dave Stewart, and Nick Beggs, who having begun his career with Kajagoogoo has since played with Led Zeppelin's John Paul Jones, numerous progressive rock acts, not least former Genesis guitarist Steve Hackett, and The Go-Go's Belinda Carlisle, and he will be playing the chapman stick… So not quite all acoustic, but certainly a show that should proof unique with such musical talents.
The acoustic shows will highlight a fresh take on Jones' best-known hits and will provide a rare and intimate opportunity for the audience to hear first-hand about the inspiration behind his most beloved material, plus fascinating recollections from his international touring career.
"I am really excited about the trio tour we have planned for 2022," said Jones. "Nick and Robin are dear friends and world class musicians and I love performing with them. After touring the trio in America, I thought the time was right for us to bring the fun of this acoustic show back home. I will play a range of songs from the HoJo canon including the hits old and new as well as some deep cuts and fan favourites."

Jones' first two albums Human's Lib and Dream into Action were worldwide hits. With Human's Lib reaching new #1 in the UK back in 1984 and scoring the hit singles 'New Song', and 'What Is Love?', while Dream into Action, which quickly became a Top Ten Platinum album in North America the following year, and featured the smash hit singles 'Things Can Only Get Better', 'Life In One Day', 'No One Is To Blame', and 'Like To Get To Know You Well'.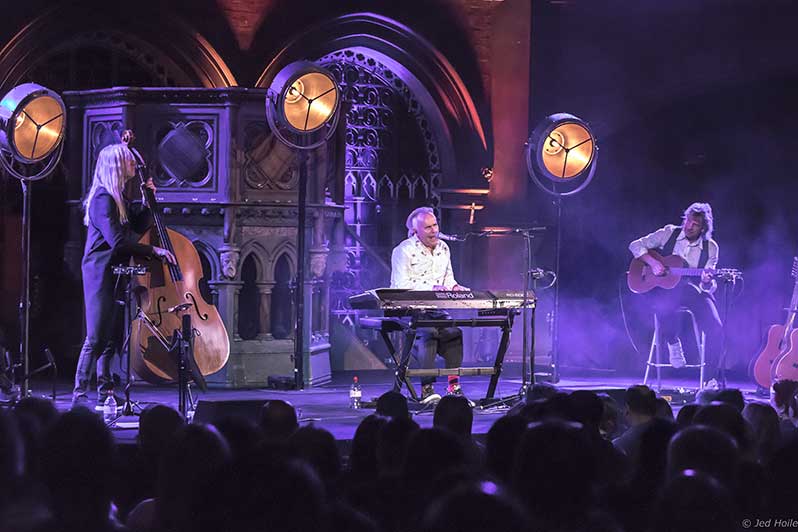 Hailed by many as an electronic music pioneer, Howard Jones has been a constant presence on the international touring scene for the past three decades, playing live in several configurations including intimate solo shows and dates with his full high-tech band set-up. His most recent album, the Top 40 album Transform, is his first new studio album in nearly a decade. Originally released in 2019 to critical acclaim, Transformfeatures several collaborations with electronica luminary BT.

Tickets are available here and here. There are a limited number of VIP tickets allocated to each show, offering the best available seats in each theatre, along with a VIP meet and greet* prior to the performance with Jones, alongside a signed souvenir package. Those interested, are advised to book early.