King Crimson guitarist/vocalist Jakko M Jakszyk releases his new solo album Secrets & Lies on the 23rd October this year.
Secrets & Lies contains 11 songs that explore topics such as obsession, betrayal, the shifting grounds of contemporary politics, and the tangled threads of family history; all balancing sensitive writing, musical technique, and accessible tunes cast in an impressively cinematic sound world.
Recently, Jakszyk had the chance to sit down with TV presenter, and previous Progressive Music Awards host Matthew Wright to talk in-depth about the new record.
Captured on film, here's the first part of that interview:
"The enforced sabbatical from King Crimson has given me the opportunity to complete a new solo album. Encouraged by Thomas Waber at Inside Out, and aided and abetted by numerous friends, heroes and family," said Jakszyk.
In fact, three of the tracks, 'Separation'', Under Lock & Key'' and Uncertain Times' originated during King Crimson's writing sessions, and bandmates Robert Fripp, Gavin Harrison, Tony Levin & Mel Collins play on the album, as do bass players John Giblin (Peter Gabriel, Kate Bush, Simple Minds), Mark King (Level 42), Peter Hammill (Van der Graff Generator) and noted British comedian Al Murray.
Other tracks featured are 'Before I Met You', 'The Trouble With Angels', 'Fools Mandate', 'The Rotters Club is Closing Down', 'It Would All Make Sense', 'Secrets, Lies & Stolen Memories', 'The Borders We Traded' and 'Trading Borders'.
Here we present the second part of Matthew Wright's interview with Jakko M Jakszyk, a third instalment follows later.
The resulting album has been described as a "mature work brimming with yearning melodies in symphonic or widescreen settings, fluid guitar work, and Jakko's heartfelt, emotional vocals." It will be released as a limited CD+DVD Digipak (featuring 5.1 mix), gatefold LP + CD & as a digital album. The cover art was created by Sam Chegini, with design by Phil Smee.
Here is the third instalment of Matthew Wright's interview with Jakko M Jakszyk.
'The Trouble With Angels' was released earlier this summer as a single. An extraordinary animated video was created to accompany the song, by Iranian film maker Sam Chegini. This was all undertaken as the coronavirus pandemic was in its first wave, and was prompted in Jakszyk own words by: "The innate urge to reach out to a stranger, following a chance meeting in Monte Carlo. Combined with the monochrome memories of Wim Wenders' Wings Of Desire. Where a moment of crisis is redefined by something magical. 'The Trouble With Angels'."
You of course can simply enjoy the video for it here at RAMzine. You can also see videos for two other tracks from the album here at RAMzine, simply by clicking here. 'It Would All Make Sense' features Gavin Harrison on drums & John Giblin on bass, and the video, created by Crystal Spotlight. While the video for 'Uncertain Times' stars Al Murray.
Though best known for his work as a vocalist and guitarist in King Crimson since 2013, with whom he has played sold-out nights at New York's Radio City Music Hall, the ancient Amphitheatre in Pompeii and three nights at London's Royal Albert Hall, Jakszyk has enjoyed a busy and diverse career spanning nearly five decades.
Encompassing late 1970s art-rock outfit, 64 Spoons, once memorably described as "Stravinsky meets The Barron Knights," he's been signed to the legendary Stiff record label, toured with Canterbury Scene legends Dave Stewart and Pip Pyle as a member of Rapid Eye Movement. Along with numerous studio sessions both as player and producer, including becoming a member of The Kinks for a week, his musical career has been nothing if not eclectic.
Named by Guitarist Magazine as one of the top guitarists in the 1980s, his playing caught the attention of Mark King who brought him in to replace the legendary guitarist Allan Holdsworth, in Level 42 with whom Jakko recorded and played live with for four years in the early 1990s.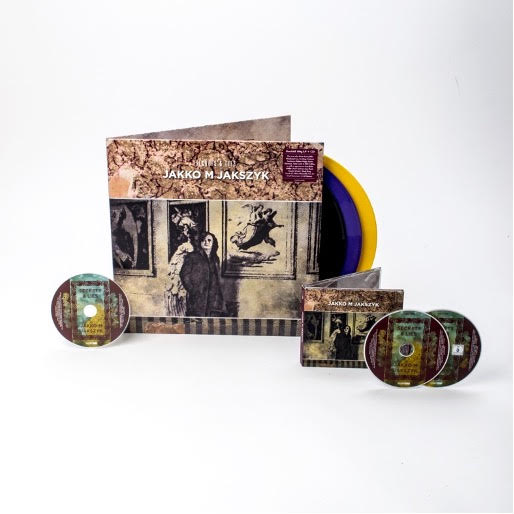 A talented multi-instrumentalist, Jakszyk's ability to work within the rigours of avant-garde rock through to sleek, intelligent pop have seen him work with a wide and diverse array of artists that includes Golden Palominos' Anton Fier, Mica Paris, Tom Robinson, Peter Blegvad, Henry Cow's John Greaves, Japan's Mick Karn, and Richard Barbieri, Dave Stewart and Barbara Gaskin, Steve Hackett and Steven Wilson.
A recipient of the Chris Squire Virtuoso award at the 2017 Progressive Music Awards at Shakespeare's Globe in London, Jakszyk has also earned a reputation as an in-demand remixing engineer and producer. In this role, he has been commissioned to remix several classic progressive rock albums in stereo and 5.1 surround sound including ELP's Trilogy and Brain Salad Surgery, Chris Squire's Fish Out Of Water, King Crimson's THRAK, The Moody Blues' In Search Of The Lost Chord and several in-concert performances of Jethro Tull included on the multi-disc reissues for Songs From The Wood, Heavy Horses, Minstrel In The Gallery and others.
Jakko M Jakszyk's new solo album Secrets & Lies can be pre-ordered by clicking here.