South Africa's L.A. Cobra has released their new album Superstition, through Crusader Records.
The band;s fourth album, it has been decribed as "a unique contribution to the sleaze/glam genre with massive choruses".
It features the tracks: 'Strange Desires', 'Nothing Like A Nemesis', 'The Star', 'Superstition', 'Untamed', 'I Want More', 'Chemical Dependency', 'She's My Prison', 'Inferno' and 'Kill' and is available here.
Formed in November 2005, L.A. Cobra is the only sleaze/glam/hair metal band on the African continent, and are from Pretoria, home of multi-platinum rock superstars Seether, flying the 80s glam rock flag from the handlebars of their Harley's whilst making a name for themselves internationally and locally.
Largely influenced by 80s rock bands like Mötley Crüe, Guns 'N Roses, WASP and Skid Row, L.A. Cobra is all about girls, Harley's, big hair and having a good time.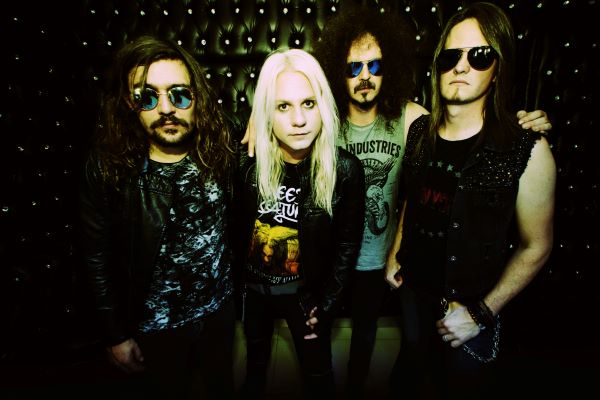 The band is: Don Cobra on vocals and guitar, Slade on lead guitar, Ewil on bass guitar and Callie 'The Animal' on drums, bringing back those memorable guitar solos and balls to the wall hard rock shows fans are all starved of, with a modern twist.
Their most recent, and third single from the album, was 'The Star' – It's intended as a motivational, cross-genre anthem, encouraging the pushing of limits in order to win. This relatable, up-beat and feel-good chorus should encourage everyone to shine like the star they are.
Their second single, 'Strange Desires' encouraged the sharing of the "often" secretive desires and fantasies that are kept secret from a lover. The song features a unique yet catchy chorus that takes inspiration from bands like Queen and ABBA yet still features the rough edge of these South African sleaze rockers. The song features L.A. Cobra guitarist Slade Sleaze on vocals in the verses. The single is still available across all digital platforms via Crusader Records here.
And before those two, heir first single, 'She's My Prison', is an anthemic arena rock single that revolves around the restrictive nature of a failed relationship. The track features screaming guitars, thunderous drums and bass, and a sing-along chorus. The can order it here and check out the video here at RAMzine.