Florida's Less Than Jake have revealed their new upcoming record.
See The Light is set to be released later this year on Fat Wreck Chords with whom the band recently re-joined after leaving the label in 2008. Trombonist Buddy Schaub commented on the progression of the new album:
"Our bass player Roger has been recording our demos since the beginning of the band and steadily has worked his way up, learning about studios from everyone we've worked with in the past. He even co-produced our last full length record GNV/FLA, but this time it was finally just the five of us in his studio, The Moathouse, and I think it is one of the closest representations of our band to date."
Roger Manganelli also added:
"Do you like punchy vocals, blaring horns, big guitars, bass and drums? Well, that's just what we do!  If you're expecting retreads and repeats, this record will disappoint. It's all new songs and new vibes, only recorded in our old school way."
Check out the artwork and track listing below!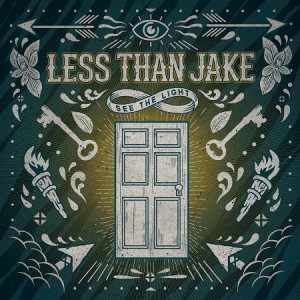 1. Good Enough
2. My Money Is On the Long Shot
3. Jump
4. The Loudest Songs
5. Do the Math
6. Bless the Cracks
7. John the Baptist Bones
8. American Idle
9. The Troubles
10. Give Me Something To Believe In, Inc.
11. Sunstroke
12. A Short History Lesson
13. Weekends All Year Long
Less Than Jake will release See The Light on November 12th. The boys will also be embarking on a co-headlining tour of the UK new year alongside Reel Big Fish with support from Zebrahead. Check out the dates below!
February 2014
01 – Great Hall –  Cardiff
02 – O2 Academy – Bristol
03 – Academy – Manchester
04 – O2 Academy – Newcastle
05 – O2 ABC – Glasgow
06 – O2 Academy – Leeds
07 – Rock City – Nottingham
08 – O2 Academy – Birmingham
10 – UEA – Norwish
11 – O2 Academy – Oxford
12 – Pyramids – Portsmouth
13 – Concorde 2 – Brighton
14 – O2 Shepherds Bush – London
15 – O2 Shepherds Bush – London