Following the success in Japan last year of an inaugural Michael Schenker Fest that resulted in the recent release of a DVD/CD documenting the event, the former UFO and Scorpions guitarist has announced that he will be touring under the banner of a Michael Schenker Fest throughout the UK in November 2017.
Consisting of four concerts that will take place in London at The O2 Shepherd's Bush Empire on November 2nd,  Sheffield – The O2 Academy on the 3rd, Manchester –The O2 Ritz on the 4th and Hull City Hall on Bonfire night November 5th, Schenker will be joined on stage by three former MSG vocalists, original singer/songwriter Gary Barden (Praying Mantis, Statetrooper),  Graham Bonnett (Rainbow, Alcatrazz, and who first hit the UK singles charts back in 1968 with The Marbles) and Robin McCauley (Grand Prix, and The Far Corporation for whom he sang the hit single version of 'Stairway To Version').
Furthermore, they will be joined the Sensational Alex Harvey Band rhythm section of Chris Glen and Ted McKenna. Bass player Glen having joined MSG for their first UK tour, with McKenna leaving his position at the drum stool of the Rory Gallagher Band to join in 1981. Rounding out the lineup for these dates will be  keyboard player/guitarist Steve Mann who co-wrote the US hit rock ballad 'Anytime' during his original time with the band, and has played with bands as diverse as 70s glam rockers Sweet and German progressive rock outfit Eloy.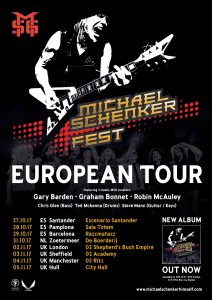 "It's a miracle that after all these years, a tour like this will take place with the original band members of MSG." said Michael Schenker himself. "Being able to go back to those days and celebrate the music is an exciting experience for us, as well as for old and new fans. To being able to re-experience, and for the new audience to get a feel of what it was like, is incredibly enjoyable."
Schenker continued:  "It's an amazing feeling to have all of my MSG Family from the '80s performing together and especially with Graham Bonnet, who I never got to play any concerts after our Assault Attack album that was originally released in 1982.  Fortunately, being able to have the participation of original MSG members including Gary Barden, Chris Glen and Ted McKenna being part of it, and to perform with Robin McAuley and Steve Mann again as well, is pretty awesome."