A million years ago, Island Records did a package tour with Crawler, Boxer and Moon, Shrewsbury four piece Rainbreakers recall some of the edgy blues and soul of those bands. They also seemingly liked the ballads they heard on their granddads' copies of Free's Highway album and how Simply Red similarly applied such chord structures on their moms' copies of Star mixed it up with a contemporary mainstream and young white blues rocker approach.  Others will tell you they can hear the likes of The Black Keys and Gary Clark Jr in Rainbreakers' music, me, I feel osmosis effect of an earlier source material.
Nominated as Best Emerging Artist in 2016's British Blues Awards, Ben Edwards (vocals, guitar), Charlie Richards (lead guitar), Pete Adam (bass) and Sam Edwards (drums) have supported the likes of Mountain's Corky Laing and The Devon Allman Band and are due out with Danny King as well as playing their own dates where tracks from their Robin Andrews produced second EP, Rise Up will no doubt be given an airing.
It begin with some chilled spaced out echoed wah-wah guitar over a laidback soul blues rock beat, for 'On My Own'  wherein Edwards sings out to the woman in his life that this relationship isn't working. No one on the receiving end of such matters believes such earnest "It's not you, it's me" antics, but those listening to his saddened passion may well be going "Yeah, leave her; I'll look after you… at least for the night!" Between the tempo changes and a tuneful thoughtful guitar solo from Richards it grabs your attention.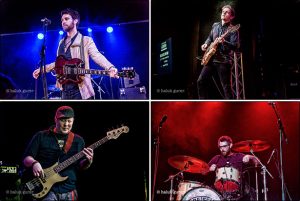 Title track 'Rise Up' has a political message but it's the choppy offbeat funk blues with layered guitars that builds chromatically that's going to draw your foot-tapping attention. 'Waiting On You' might be considered the partner's response to 'On My Own' it's also apparent how much Rainbreakers like to put their guitars through effects and live you wonder how well that goes over. Here they wash moodily over a slow soul ballad, there's also another effective guitar solo writhing its way between the vocals, one that could probably have gone on longer with the tempo increasing.
The blissful love affair related in 'Perception' doesn't really engage me, and I'm usually quite fond of Euro cod-reggae which the offbeats of this tune can be likened to. Whereas 'Living Free' offers a more rugged blues rock, with a shuffling drum pattern that then explodes as the guitar ignites, and as previously noted could go on a little longer because the guy's got a fine lyrical tone when he solos.
On the evidence here, Rainbreakers are about creating mood, and this is a well recorded, chilled out listening affair. Live one presumes they're more varied and that future records will evolve to demonstrate that a little more.