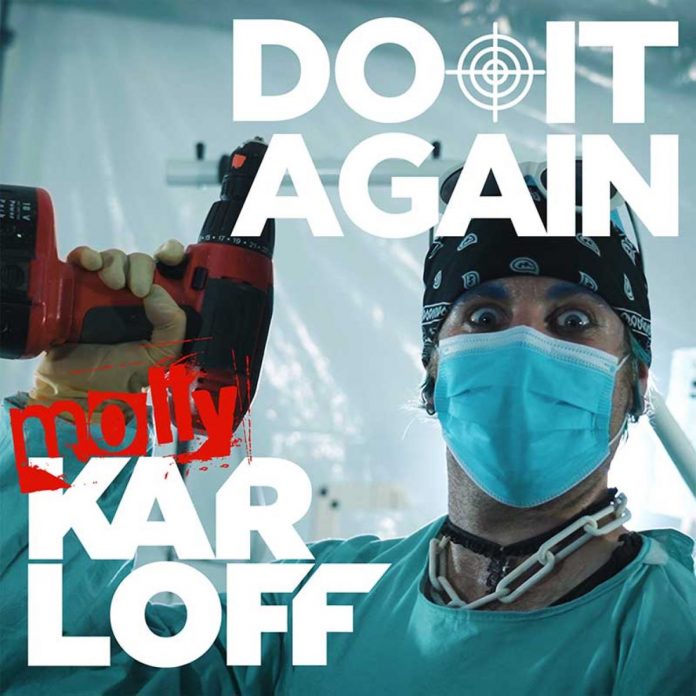 Oxford-based band hard rock trio Molly Karloff, follow their Supernaturalation EP with the release of a new single titled 'Do It Again' on 23rd October.
'Do It Again' will be accompanied by an entertaining music video featuring the band scrubbed up as medical practitioners in a hospital where things get out of hand.
You can watch the teaser for the video right here at RAMzine.

'Do It Again' has been described thus: "With driving rhythms right from the outset of this tune. Melody and groove are in abundance before you're hit with another contagious chorus laid over the pumping hooks of the guitars. Having no regrets seems an appropriate subject for this song to tackle, which continues its driving assault, taking only a small break away for the appropriately short and frenetic solo before launching the listener back into the crescendo that builds before the final chorus."
The single is available to pre-save by clicking here.
Since the release of Supernaturalation, vocalist/guitarist Simon Guilliard, bass player Dan Podbery and drummer Jowie Adkins have further cemented their place in the hard rock scene.

Despite their tour being cancelled due to the COVID-19 lockdown, Molly Karloff has been busy working on new material, and remixing existing tracks with producer, Romesh Dodangoda (Bring Me The Horizon, Funeral For A Friend, Bullet For My Valentine).

Supernaturalation was released by Roulette Media Records, distributed worldwide through Cargo and is still available from the band's website by  clicking here.