Iron Maiden's retro 8-bit platformer, Speed Of Light, is free to play and surprisingly addictive.
It's not the first video game that 'The Irons' have released; in 1999, they released Ed Hunter, a Time Crisis style shooter that was, for its time, graphically state of the art. Taken from and supporting their latest single release of the same name, Speed Of Light is a technological step backwards; it is an 8-bit nod to the likes of Donkey Kong. Pleasingly, the game features a soundtrack clearly styled on the single itself.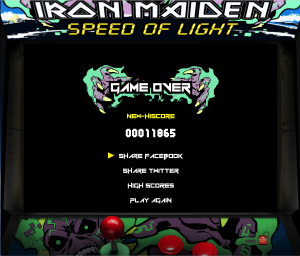 As evident from an increasing number of releases on Steam, retro styled games have seen rising popularity in recent years; their simplicity makes them quick to pickup and very addictive, and Speed Of Light is no different.
Like all these games, the scoring system doesn't quite make sense, but you can't help but want to continually beat your high score – surprisingly, I even found myself developing tactics!
Have a go for yourself and see if you can beat my high score of 11,865. If you do, post your score in the comments section.
http://speedoflight.ironmaiden.com/
Helpful hint: watch the Speed Of Light video to learn some tips on how to play!
The single is taken from their latest studio album Book Of Souls which will be released on September 4th.