Coming off what was arguably the best album of their career, Against Me! have taken the always slightly dodgy decision to release a live album.  Such an endeavour can go one of two ways.  It can lead to a defining album, one that includes all the band's greatest songs and catches them at their ferocious best.  Or, it can feel like a desperate attempt to grab money from fans and leave listeners annoyed and with a lighter wallet.  Of course, anyone who knows anything about Against Me!, will know that was never going to happen.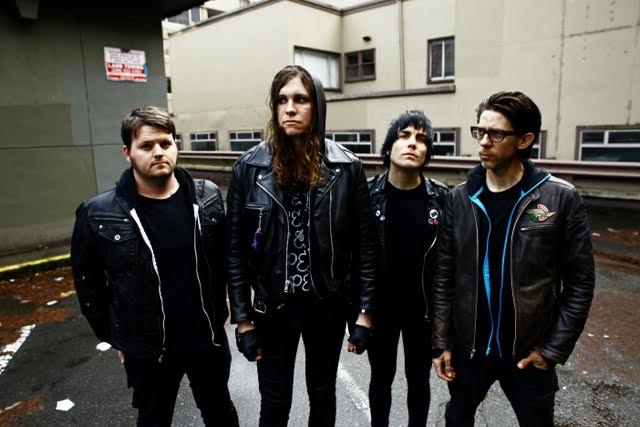 What makes 23 Live Sex Acts so good is that it gets across what Against Me! are all about.  It is punk rock fury wrapped up in songs that you just want to sing. Laura Jane Grace's throaty vocals are incredibly powerful and as she roars 'as if you were my fucking pimp, as if I was your fucking whore' on 'Black Me Out', you can feel years of frustration being purged.
It's not just Grace however and Against Me! are one of the tightest punk bands on the circuit.  They sound like they are attacking the live set and from the moments Grace introduces things by telling the audience to 'fuck shit up' as they launch into 'FUCKMYLIFE666', right through to closer 'We Laugh at Danger and Break All The Rules', the band don't miss a beat.  Even the inclusion of a version of 'New Wave' which sees them stop to admonish security treating someone badly doesn't break the flow.  In fact, it turns into a nice little moment, as Against Me! take a stand for their fans.

What really makes this album great though is just how good the songs are.  And trust me, they are good.  It's perfectly balanced between the old and the new and fan favourites like 'Pints of Guinness Make Me Strong' and 'White Crosses' sound as great as they ever did.  However, latest album Transphoria Dystopia Blues more than holds its own.  These are songs to sing and dance too and Against Me! provide that and throw in all the heart and soul that you could ask for.  Even the diehards are catered for, with a reworked version of 'Pretty Girls (The Mover)' getting an airing and rarities like 'Miami' being dusted off for the live crowd.
If you've never listened to Against Me! then you are probably doing something wrong. However, 23 Live Sex Acts may well be the place to start.  It manages to shine a light on a career of brilliant punk rock songs and also captures a glimpse of the sing alongs and togetherness that come from one of their shows.  If you are someone who has been there since the beginning then you will be more than happy to sit back and let the memories wash over you, as you relive just how good a band Against Me! are.