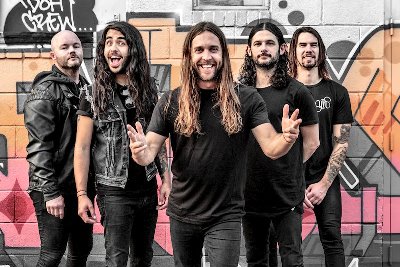 The long wait is over (for those outside of Canada) with the release of The Lazys' latest single, 'Nothing But Trouble' to the rest of the world. It is taken from their new album, Tropical Hazards, that will be available as of 4th May on digital, CD and vinyl.
'Nothing But Trouble' is currently at #13 in the charts and rising. It follows 'Shake It Like You Mean It' and 'Black Rebel', their previous Top 10 singles in the Canadian charts back in 2015.
Formed ten years ago in Australia, Leon Harrison (vocals) Matty Morris (lead guitar) Glenn Williams (bass) Liam Shearer (rhythm guitar) and Andy Nielsen (drums) recently moved to the Maple leafed nation. "Since the early days, being in a rock band is all we've ever wanted to do," said Morris.
 "We've shown how much love we can offer to people if they give us a chance and Canada has done that for us. It's kind of insane when we think about all that support. But now it's time to show the world." By that Morris means a European tour this summer, albeit that the only UK date announced is at The Blackheart in London on Wednesday 6th June.
Tropical Hazards will be out by then and promises a "high-octane, hell-raising rock 'n roll riot". Written last year in both Canada and Australia with Ian D'Sa (Billy Talent) and produced by D'Sa and Eric Ratz (Big Wreck, Danko Jones, Monster Truck) it features ten tracks that, so they claim, are "unabashedly outrageous, packed with classic songs about wild nights, pretty girls, heartbreak, and resilience."
'Nothing But Trouble' by The Lazys is available for purchasing and steaming through Golden Robot Records now by clicking here while Tropical Hazards can be pre-ordered by clicking here.