We have been waiting for the new OVERKILL album for a while now. The band have been hard at work preparing for the release of their 17th album 'White Devil Armory'. We have now heard word of movement coming out from behind the scenes, as OVERKILL have now teamed up again with esteemed video director, Kevin J. Custer (CANNIBAL CORPSE, LACUNA COIL, HATEBREED, TESTAMENT). The band shot two videos with Custer for the new tracks 'Armorist' and 'Bitter Pill'. Frontman Bobby 'Blitz' Ellsworth commented on working with Kevin:
"Fantastic to have Kevin on board again, when he's directing the direction is intense! Each time the prior results have been spot on, so our confidence is high for this shoot. From the directors eye to yours/ours, should be a killer!"
The new album was tracked at Gear Recording and mixed by Greg Reely, who also worked on 2012's The Electric Age. White Devil Armory will be in stores on July 21, 2014 via Nuclear Blast.
'White Devil Armory' tracklist: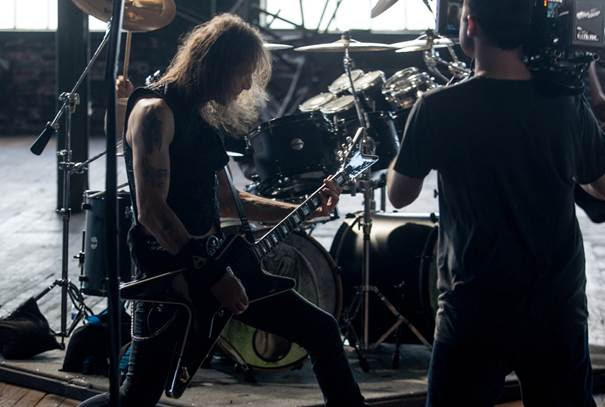 1. XDM 2. Amorist 3. Down To The Bone 4. PIG 5. Bitter Pill 6. Where There's Smoke 7. Freedom Rings 8. Another Day To Die 9. King Of The Rat Bastards 10. It's All Yours 11. In The Name 12. The Fight Song 13. Miss Misery
Pre-order the album: http://smarturl.it/OVERKILL-Armory
Order the Mail Order version of the album from the new Nuclear Blast UK webstore to receive the album on limited digipack CD, leather belt & OVERKILL buckle + certificate: http://bit.ly/overkillnbuk