South American black metal group Patria have released a teaser for their upcoming album Nihil Est Monastica.
Check out the teaser below!
The trailer was put together with the help of Swedish producer Håkan Sjodin who has also lent his talents to such groups as Marduk in the past.
Nihil Est Monastica is due to be released on March 13th on CD, vinyl and even good old cassette format. Check out the album art and track listing below: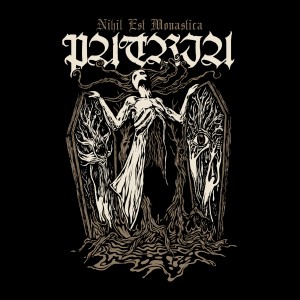 01. Nihil Est Monastica
02. Conquering Death's Palace
03. Dark Cosmic Legend
04. Nyctophilia
05. Ravens Almighty
06. Altar
07. Sacro Vale Dos Encantos
08. Ascendant Of Darkness
09. Evoking The Ancient Spirits
10. Storm Before Eternity
11. The Silence Of The Thrones
12. Till Death
13. Black Vomit (Sarcófago Cover)
Band member, Mantus, has commented on the album calling it a "fresh musical conception if compared to our previous releases" and described the sound of the album as "necro and lowfi characteristics of the early black metal sound."
Find out more about Patria from their official website.