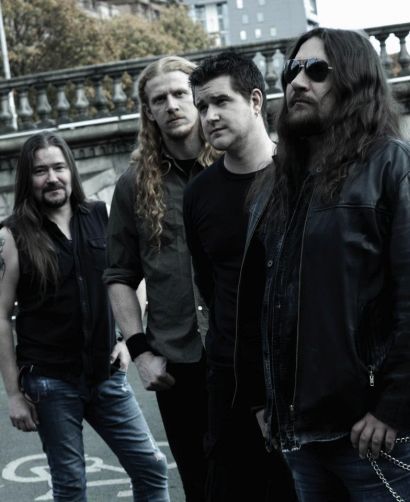 ATTICA RAGE was formed by Ayrshire brothers, singer/guitarist Jonny Parr and drummer Richie Rage in Glasgow, Scotland in 2003. Coatbridge guitarist Stephen Bell joined in 2007 and the line-up is completed by bassist Colin Wilson from Bellshill, who joined in January 2012.
Where 'Road Dog' – the last album – was all sump-oil and cartilage, new album '88 MPH' is quite a departure. But the careful development of Attic Rage is no accident. It is a carefully managed evolution. This follows the departure of 'Big C' (who was an integral part of the original set up: He is credited with producing the first album 'Ruin Nation'.) New bassist Colin Wilson is firmly embedded into the structure of the band.
After a sumptuous introduction track – 'From Dusk till Dawn' – we instantly realise that the boys are going to be travelling in a 'Black Label Society' direction. And this is gonna be one hellishly addictive ride.
So when 'Beyond Forever' cracks in like a loose whip, you will feel your heart gladdened. This is highly polished, milled-leather biker rock. With beaming guitars and marmalade-sticky riffs. With heartfelt lyrics and a swooning pace. The chorus: "I will be here waiting…We are forever …We'll see it through…." will speak to the soul of every long-haired greaser out there. And those guitars, so choppy at the end, will reduce you to a fruity pulp.
'Flight 180' runs around the stage grimacing. It's that kind of a song. Heavy bass notes mulch down and rot beneath the melody. And the whole track fizzes like a primed powder keg. This song lugs out thick buffalo hides of pure power – with the darkest mud buckets of bass you have ever witnessed.
'Close Shave' reminds us so much of BLS we actually had to check the label to ensure it was still Attica. A fragrant beast this one – with waffles of keyboard, and some zestful backing vocals. As you would expect, the lead guitar bubbles and pipes like a banshee rising. It is all very sophisticated stuff.
When you fully open up 'Long Ride Home' you can feel the wind in your hair and the engine pulse between your legs. Lyrically, they sometimes take on a syllable too much, but this just shows their enthusiasm and desire to describe the reasoning behind this song – riding an iron horse back to loving arms. Along the way, their flame-haired 'Legolas' looking guitarist ( Stevie Bell) plays some piping hot guitar – he bends the air with sheer intensity. Hear them coming?
'Killer Carousel' is a slice of purely increasing heaviness. A surprisingly grizzled riff chugs along manfully. This song will put a cloud of hornets up your sporran. Then title track '88 MPH' drops in. An intuitive riff makes us feel comfortable. The cosy chorus will have the crowds clapping and yelling along at live shows. This track is not going to win any awards for innovation and experimentation – but it is full of fast-fingering bass lines, squelching guitars, tempestuous drums and guiltless vocals. And that's all that we really want.
Jonny has a face like a lion. What we did not know, until the 'Aftershow' track is that this whisky drinking , grease stained demonic Aslan also has a voice that could rival "Ozzy". Yes, really. It is that good . 'Aftershow' begins with a browsing bass and crunchy chords – but it soon relies on belching, marauding and a roaring riot of noise to percolate the excitement up into a frenzy. In fact, it's just like a real 'Aftershow' party. Strange that.
'In Concert With The Mirror' starts like a regular Attica Rage number. But then a Hammer house-of-horror organ creeps in and mooches about. The guitar sounds seems to be sucked out – as you would suck venom from a wound. Jonny's vocals claw at you. And the fuzzy riff rumbles on, in echoes of insistence.
'End Of An Era' completes this astonishing album. Jonny's voice seems a little remote on this one. Like a battered banner blowing in the desert wind. Artful guitars whistle across the prairie land. The chorus rises from the parched earth, like a Sonoran cactus in sun salutation. As the guitars whistle overhead like maverick eagles on the prowl.
This is an impressive and consummate album. It will dazzle all those who love classic metal. Attica Rage are really beginning to show that they are true masters of rock.
8/10