A newly recorded song version of Steve Hackett's 'Spectral Mornings' has been released as a special charity EP in aid of the Parkinson's Society UK featuring a number of performers well known on the prog rock scene.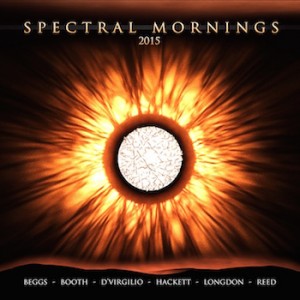 The players include former Genesis guitarist Steve Hackett himself, Big Big Train's David Longdon on lead vocals, with Magenta's Cristina Booth also featured on vocals,  plus bass player Nick Beggs (Steve Wilson Band, Fish On Friday), drummer NickD'Viriglio (Spock's Beard) and mutli-instrumentalist Rob Reed (Magenta, Kompendium).
The original track was an instrumental on Hackett's 1979 album of the same name, but now features lyrics, as Rob Reed who also produced the EP explained: "I've always loved the piece 'Spectral Mornings' by Steve Hackett. It had a great guitar melody and thought it would be amazing to rerecord with the addition of some lyrics. I contacted David Longdon from Big Big Train who I wanted to sing it. David wrote the lyrics and we did a demo, which sounded fantastic."
From there on, other musicians were gathered, with the decision that all profits would be donated to the Parkinson's Society UK, not least because some of those playing on the record have relatives suffering from the disease.
If you've not heard the original 'Spectral Mornings' you'd not know the vocals and lyrics were a new 30+ year addition as they flow seamlessly, whereas if you have they make a fine alternative addition with the wait for Hackett's aching guitar melody just that little more profound. Either way, it's worth checking out and for a good cause.
Released on the Esoteric Antenna record label and available both as a physical EP and download, the record can be ordered here.