New York singer Sari Schorr releases her sophomore album Never Say Never on Friday 5th October through Manhaton Records.
Powerful, husky and textured are all words that have been used to describe Schorr's voice and with Never Say Never things get personal. Having broke out solo into the blues rock scene in 2016, with British blues pioneer Mike Vernon producing her critically acclaimed debut album, A Force of Nature, she is now breaking new ground.
Having insisted that the album be recorded live to capture the raw energy of her music, and ventured deeper into her personal life lyrically. In the process, Sari has revealed herself with a vulnerability and honesty that she admits was as painful as it was healing.
Schorr's success comes after years trudging the rugged road of life as a hard-working blues woman. From her humble beginnings, working the music scene in the legendary fierce South Bronx of New York and on Manhattan's Lower East Side, to a performance at Carnegie Hall, the operatically trained singer stood her ground and few can deny her talent.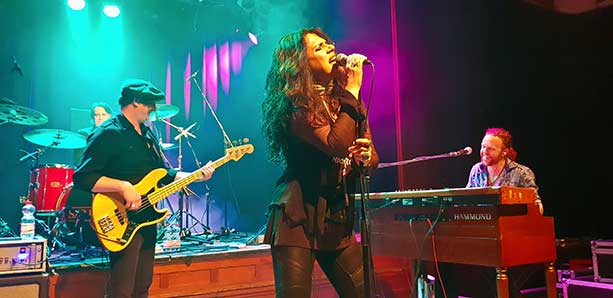 "Over the last 18 months, I have travelled from a loft apartment in New York, to a finca in Spain, lived over a bakery in Bath, on to a factory in Germany, stayed for a while at a sheep farm in Wales, stopped off at a holiday chalet in Skegness, UK, then to a gîte in France and finally to a barn in Norfolk, England," Schorr revealed.
"In each place I have set down my suitcase, full of half-written songs, met up with amazing musicians, writers and producers and finished my second album. "It has been a long, hard journey, full of trials and tribulations, full of tears, full of joy, full of laughter, full of friendship, but most of all, totally worthwhile. I hope you agree."
Never Say Never was recorded at The Grange Studios in Norfolk and features former King King keyboard player Bob Fridzema guitarist Ash Wilson, bass player Mat Beable and drummer Roy Martin.
The singer plays UK dates this September, ahead of the album's release, for tickets visit www.sarischorr.com/tour or individual venue websites.
For an interview with Sari Schorr at Ramzine click here.
 SARI SCHORR – NEVER SAY NEVER UK TOUR 
Leicester, The Musician  Thursday 13 September
London, Borderline  Friday 14 September
Mickelton Live  Saturday 15 September
Bilston, the Robin 2  Tuesday 18 September
Bristol, The Louisiana  Wednesday 19 September
Pontypridd, Muni Arts Centre  Friday 21 September
Derby, Flowerpot  Saturday 22 September
Oxford, The Bullingdon Thursday 27 September
Poynton, Blue Funk Rhythm & Blues Club  Friday 28 September
Godalming, Wilfrid Noyce Community Centre  Saturday 29 September