Sepultura have revealed the artwork and tracklisting for their upcoming new album, titled The Mediator Between The Head And Hands Must Be The Heart.
The artwork, designed by Alexandre Wagner, was drawn using special charcoal drawing techniques. Alexandre commented:
"This series of work in charcoal drawing [for the album] I did when I still lived in Belo Horizonte. They were all made there and are quick drawings without much reference, almost an experimentation that may have come from a desire to use the most basic of basic materials – coal, paper and wood. The cover design was ready, Andreas saw and liked it. We talked a little more and I also sent some other pictures for the booklet. I was pleased with the choice of the theme of the album; I like [Austrian filmmaker] Fritz Lang very much and not to mention only Metropolis, but Dr. Mabuse der Spieler [Dr. Mabuse: The Gambler, Lang's 1922 film] is a fucking movie!"
Check out the artwork and tracklisting below!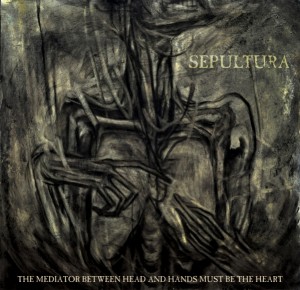 01. Trauma Of War
02. The Vatican
03. Impending Doom
04. Manipulation of Tragedy
05. Tsunami
06. The Bliss Of Ignorants
07. Grief
08. The Age Of The Atheist
09. Obsessed
10. Da Lama Ao Caos (Chico Science & Nação Zumbi cover)
The Mediator Between Head And Hands Must Be The Heart is due for release October 28th via Nuclear Blast Records.