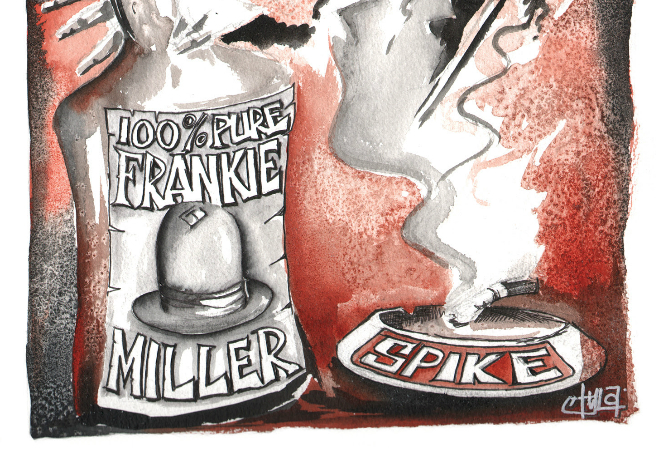 '100% Pure Frankie Miller' is the new album from Spike, which will be released on 8th September 2014 through Cargo Records. The album will feature Ronnie Wood, Andy Fraser (Free), Simon Kirke (Free and Bad Company), Ian Hunter and more.
Many years in the making – and finally brought to fruition by a famous band of rock n roll brothers – '100% Frankie Miller' is the ultimate tribute to a Scottish legend featuring 'lost' treasures and previously hidden gems.
Bringing together the Rolling Stones' Ronnie Wood, famed Free rhythm section Andy Fraser and Simon Kirke, Mott The Hoople's Ian Hunter and the brilliant Bonnie Tyler, this heartfelt collection of classic songs has been lovingly compiled by The Quireboys' lead singer Spike – a family friend of the Millers and self-styled custodian of an historic back catalogue.
Two decades after suffering the brain haemorrhage that cut short a colourful career, Miller has emerged as one of rock's great survivors and his music lives on.
"Frankie doesn't want sympathy," said Spike. "He just wants his music to be heard. These songs have never been heard before and they've been recorded with Frankie's blessing. They are songs that would have been lost if it wasn't for the desire of a group of his closest friends and biggest fans to do them justice. Frankie Miller was – and still is – a massive influence on so many musicians, myself included. He has a special talent as a songwriter and that talent deserves to be celebrated."
Miller enjoyed chart success in the late 70s with 'Be Good To Yourself, Darlin' and 'When I'm Away From You' and counts fellow countryman Rod Stewart amongst his biggest fans.
Tracklisting:
1 -THE BROOKLYN BRIDGE 2 – COCAINE 3 – I'M LOSING YOU 4 – INTENSIVE CARE 5 – FORTUNE 6 – AMSTERDAM WOMAN 7 – OTHER SIDE OF TOWN 8 – CHEAP HOTEL 9 – COLD, COLD NIGHTS 10 – DID YOU EVER WANNA GO HOME 11 – KEEPIN' IT ALL FOR YOU 12 – BOTTLE OF WHISKY