After the success of 2015 CD Box set Premonition revisiting the early days of his solo career, Steve Hackett goes back to Memory Lane vintage style, with a vinyl collection of his first six albums on the Charisma label. The Charisma Years (1975-1983) featuring eight LPs and a 12" EP and is due out on May 27th.  It will include newly remastered versions of the albums taken from original master tapes, as well as live material and tracks never before released on vinyl.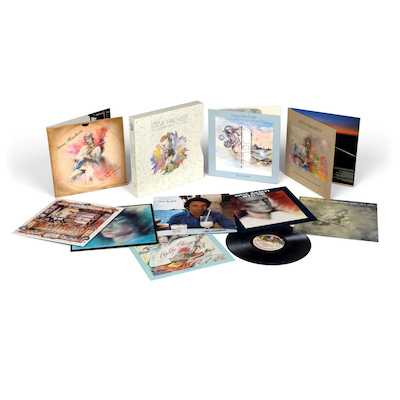 Also on 27th May, Hackett releases 3 separate 2CD/DVD (5.1) Deluxe editions of Please Don't Touch, Spectral Mornings and Defector.   Please Don't Touch and Spectral Mornings have been newly mixed in 5.1 surround sound by Steven Wilson from the original multi-track tapes; Defector includes a new remaster of the album, a CD of Hackett's set at the Reading Festival in 1980 and a DVD featuring a pseudo 5.1 Surround Sound Up-mix derived from the original stereo masters.
"I'm pleased these early albums, rarities and 5.1 mixes are to be released now in this set on vinyl" Hackett commented, "Vinyl is still a very exciting listening medium."
The Charisma Years boxed set will feature all of Steve's albums from that period plus a wealth of bonus material which includes: A double LP of a newly mixed concert recorded on the 1979 Spectral Mornings tour at Oxford's New Theatre, a full LP and 12-inch EP of his appearance at the Reading Festival in August 1981, 'I Know What I Like', a special 12-inch live EP of Hackett's band performing the Genesis classic  at Oxford's New Theatre plus several tracks recorded live at the Theatre Royal, Drury Lane in 1979.
Commenting on the albums, Hackett said: "On Please Don't Touch I'd finally embarked on a permanent solo career. The strength of the ideas combined with the extraordinary people who had carried them out was a revelation to me. I wanted to be invisible on this record and just to be the catalyst. Each track functioned like an excerpt from a sampler album. Different teams met different styles and that pan-genre approach has stayed with me up to the present day… It's no coincidence that Steven Wilson offered to remix this stuff in 5.1 surround sound. He'd originally been inspired by Please Don't Touch when he was barely a teenager."
Of Spectral Morning he recalled': "Suddenly there was a great touring band, wondrous players and singers all. I no longer stood alone. Substantial parts of Spectral Mornings had been road-tested. Audiences were hungry for it in a way I couldn't have imagined. Once more the combination of the classically trained and the self-taught together kindled a kind of blue flame around those songs." And of Defector: "After the opening snake charmer-like flute notes of 'The Steppes', drums boomed out from the next door church we used as an echo chamber, sounding more pagan than C of E in spirit. I was still in love with this killer band that had versatility tattooed all over… Whilst Spectral Mornings was a hard act to follow, Defector pipped it in the charts by going Top Ten!"
To pre-order Steve Hackett's The Charisma Years box set with a limited edition signed A3 poster click here.