They are back! Taking Back Sunday are set to release their brand new album 'Happiness Is' on March 18th 2014, via Hopeless Records. This will be the bands second album since reviving the classic line-up of Adam Lazzara (vocals), John Nolan (guitar/vocals), Eddie Reyes (guitar), Shaun cooper (bass), and Mark O'Connell (drums).
With over a year with no representation for the first time since 2002 – Taking Back Sunday have been in the studio working with producer's Marc Jacob Hudson (Saves The day, The Swellers) and Mike Sapone (Brand New, O'Brother). Having no representation really helped the band to work more creatively and freely.

Shaun said: "Through this process we had many more shared experiences as adults that have come into play.  We had near death experiences purely from the force of nature, common enemies, playing for the troops who protect us against a different kind of enemy and that led to seeing parts of the world that you would never in your lifetime expect to see and leave you a bit haunted.  There is a new level of honesty both in the writing and working with two producers who we have known for so long". Lazzara went on to say "I tried to be a little more loose; I was more focused on being myself than trying to sound perfect or anything.. We also played around a lot with arranging the harmonies and playing with layers and I think that makes these songs a lot more rich."
"Happiness Is" is said tosee the band's enigmatic frontman at his most personal. "Through the years I've tried to stay pretty cryptic because often times it's easier not to have to explain yourself but on this record I was very direct in the sense I tried to use the simplest way to get an idea across," Lazzara explains. "In the past I don't think I ever would have let a song like 'Like You Do' go on an album because it's so heartfelt in a simple way and I also think it's actually one of the first love songs we've ever written."
You can pre-order Now at hopelessrecords.com/happinessis. The pre-order includes an instant download of new single 'Flicker, Fade'.
Track Listing: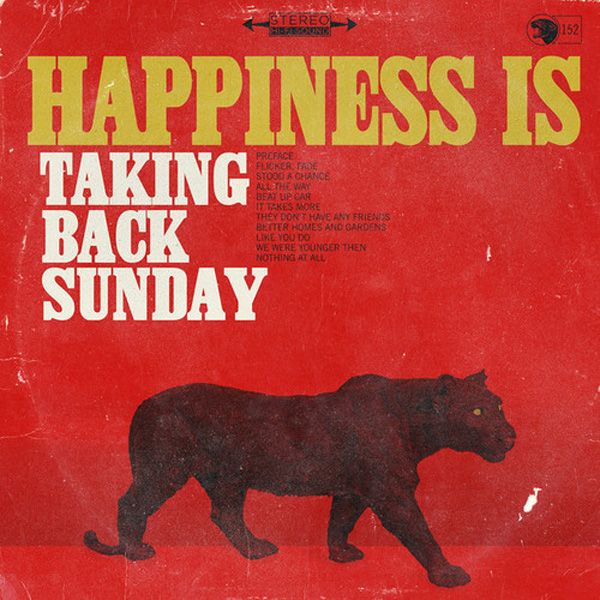 Preface
Flicker, Fade
Stood A Chance
All The Way
Beat Up Car
It Takes More
They Don't Have Any Friends
Better Homes And Gardens
Like You Do
We Were Younger Then
Nothing At All