Thrash metal with humour comes in the form of Germany's Tankard who've been going strong since 1982, have a "best of" Hymns For The Drunk, on January 12th 2018 Through AFM Records.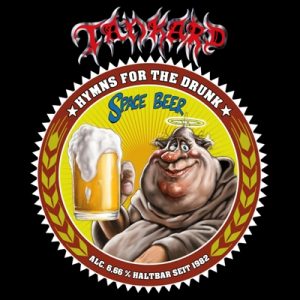 Featuring Andreas (Gerre) Geremia on vocals, Andreas Gutjahr on guitar, Frank Thorwarth on bass, and Olaf Zissel on drums, for the last three decades the cult heroes have been playing the likes of 'Empty Tankard', 'The Morning After' and 'Chemical Invasion' as far afield from their home town of Frankfurt as South America and Asia. The have also performed  at the some of the biggest metal festivals of the world, including Wacken, Hellfest, Graspop and Summer Breeze. This is as well as scoring with record chart entries.
"This best of sums up our creative period from 2002 – 2010, while we were signed at AFM Record. Henner (R.I.P.) gave Tankard a chance in the early 2000s, when he signed us. He literally revived the band," recalled Gerre of the label's management.
"The release of B-Day in 2002 was a turning point in the band's history, cause we were finally back in the metal circus. The AFM years will always be an important part in Tankard's history. Have fun with this!"