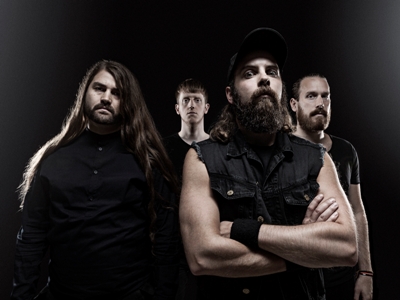 Swedish death metal/djent quartet Terminal Function release a three track maxi-single, the Krakstören EP on 27th October through Stupid Dream Records.
Recorded, produced, mixed and mastered by Terminal Function in their own Soundfraction Studios in Stockholm, Sweden, the band set out to write shorter, more explosive songs, having previously explored more extensive songs and suites of material strung together to tell a longer story. To this end, they have also implemented their sound by adding eight string guitars and Chapman sticks.
"The lyrics for 'Chiral Ghost' were inspired by a dream I had about meeting your past and future shadow self," said guitarist Mikael Almgren. " I guess you could see it as a metaphor for reflecting and being aware of your past while at the same time thinking ahead, keeping different time perspective in your mind simultaneously. The music alters quite a bit between the usual tech metal odd time signatures, fast parts and slow heavy sections with some haunting guitar parts, which made me think the topic of the lyrics would suit this song"
Continuing to outline the tracks on Krakstören EP Almgren added: "'A Sociopath's Delusion' is about having an alternate alter-ego that is basically only focused on personal gain and profit. Music wise it is probably the most straight forward song on this EP, even though it has some pretty complex sections.
"'Axis Gone' is themed around a rather dystopian world scenario, with the music taking a lot of different turns throughout the song with one of the most chaotic endings we've ever done. A fitting way to end the EP we thought."
Mikael Almgren (now also in Soreption) and singer Victor Larsson joined Terminal Function in 2001. The band having been founded as far back as 1998 by guitarist Stefan Aronsson and drummer David Lindkvist (ex-Vildhjarta).
During 2003-2004 Terminal Function released two demos mixing technical death metal with fusion-inspired atmospheric elements. The result of which found the band signed to American label Willowtip Records who in 2008 released the band's debut album Measuring the Abstract. Following its release the band moved to Stockholm and started work on the sequel Clockwork Sky, that was mixed and refined by Per Nilsson from the death metal group Scar Symmetry, and they now follow that with the Krakstören EP.