Eden's Curse will release Testament – The Best Of Eden's Curse on 2nd November through AFM Records.
This two disc CD collection will feature 14 songs, covering all five of the band's studio albums, on CD1 and a bonus disc, The Best Of The Bonus Tracks, on CD2, that will include a brand new song 'Forever'.
"We have two very definite periods of the band, with two vocalists, almost like the Old and New Testaments, which was the influence behind the title and the artwork. Working closely with AFM we compiled a one disc collection that flows exactly like a concert set-list and gives the new listener a perfect introduction to our music and the avid fan a collection of the greatest songs in our arsenal" stated bassist and founder member Paul Logue.
To that end, CD 1 – The Best Of Eden's Curse, mixed & Mastered by Dennis Ward, will feature 'Symphony Of Sin', 'Masquerade Ball', 'Black Widow (Featuring Andi Deris)', 'The Great Pretender', 'Fly Away', 'No Holy Man (Featuring James Labrie)', 'Sell Your Soul', 'Jerusalem Sleeps', 'Unconditional (Featuring Liv Kristine)', 'Judgement Day', 'Jericho', 'Unbreakable', 'Evil & Divine', plus 'Angels & Demons (Featuring Pamela Moore)'.
While CD2 – The Best Of The Bonus Tracks features 'Forever (New Song)', 'Man Against The World (2016)', 'Time To Breathe (2013)', 'Fallen From Grace (Acoustic)', 'Unchain The Night', 'Children Of The Tide (Piano)', 'Never The Sinner', 'Guardian Angel (Acoustic)', 'Prisoner Of The Past', 'Sail On (Acoustic)', 'After The Love Is Gone (Acoustic)', 'Fly Away (Acoustic)', 'The Voice Inside (Acoustic)' and 'Eden's Curse (Acoustic)'.
"We are very much a band that listens to our fans and one thing we have been asked a lot is – Can we have all the bonus tracks on one CD?" remarked Logue of the second CD. "It's taken a while, but it's here at last and with the added bonus of a brand new song called 'Forever'.
"I actually wrote 'Forever' way back in 2005 for Pink Cream 69 singer David Readman's solo album. His label pushed him in a more AOR direction, so I always kept this one on the back burner – 'Sign Of The Cross' came from the same session. I always knew it would see the light of day and Thorsten and I reworked it and made it more in keeping with where we are today as a band. Back then, I had just read Dan Brown's brilliant novel Angels & Demons and the lyrics are based around that whole story."
'Forever' will be released as a single and lyric video on 12th October 2018. It was written by Paul Logue and Thorsten Koehne, and mixed by the band's former drummer Pete Newdeck (Midnite City, Tainted Nation, Steve Grimmett) and mastered by Harry Hess(Harem Scarem).
Testament – The Best Of Eden's Curse itself can be pre-ordered by clicking here.
Eden's Curse will also be special guests to Michael Schenker Fest on their Resurrection UK Tour this November. The run will also take in an appearance at the Hard Rock Hell Festival, the band's first since 2009, a headline show at Fuel Rock Club, in Cardiff, Wales, Winterstorm festival & Winter's End festival.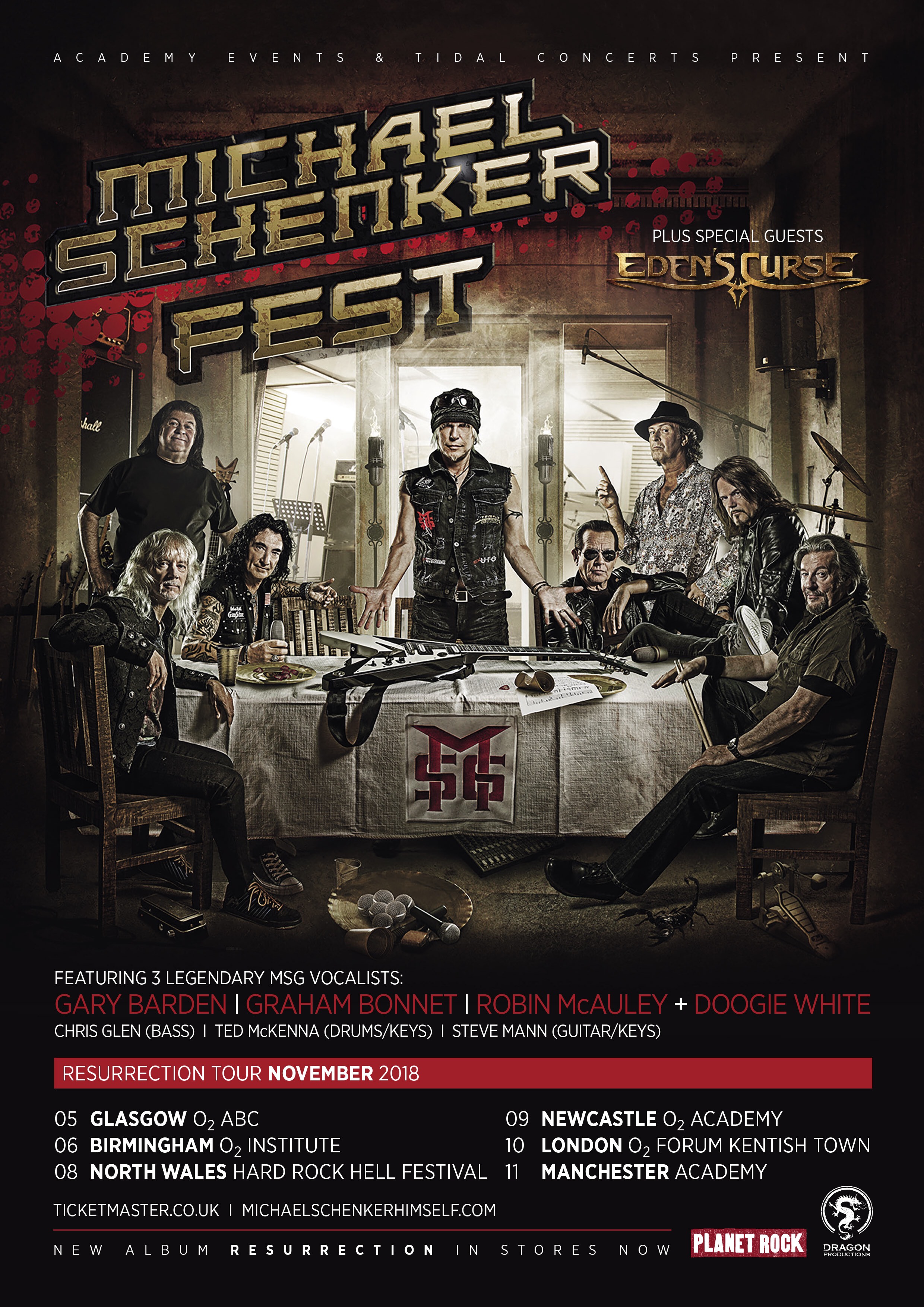 Eden's Curse –Testament (23/9/18)