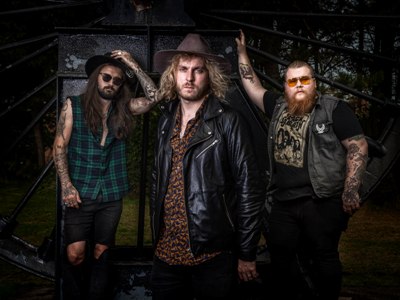 The Bad Flowers release 'Who Needs A Soul' as their latest single on Friday 14th September, taken from their debut  album Starting Gun.
The single coincides with their Planet Rocks Presents co-headlining tour with Federal Charm that opens at the Bristol Thekla on Wednesday 19th September. Special guests will be Those Damn Crows. Tickets are available from planetrocktickets.co.uk and thebadflowers.uk.
A full list of dates for the tour can be found at Ramzine by clicking here. However, it should be noted that the e venue for the show in Nottingham has been changed to The Bodega on Friday 21stSeptember.
Named one of Planet Rock Radio's "Ones to watch", Tom Leighton (vocals, guitar), Dale Bollard Tonks (bass) and Karl Selickis (drums) the lads behind Cannock-based band The Bad Flowers deliver a show with thunderous impact so are definitely worth catching live.
In the meantime, and ahead of the single's release here's an official lyric video for 'Who Needs A Soul' by The Bad Flowers.