Following airplay on Planet Rock for their new single 'Thunder Child', Black Country-based three piece blues rock band The Bad Flowers have now also released an official video to accompany it, prior to embarking on assorted gigs and touring throughout the UK.
The Bad Flowers formed in Cannock, near Wolverhampton in 2014, lead vocalist and guitarist Tom Leighton, bassist Dale Tonks and drummer Karl Selickis learning their stage craft playing support at pubs and clubs around the Black Country before extending out to the West Midlands. Following two independently released EPs, Vicious Lullabies and Killing Time, they have gone on to support the likes of Crobot, Jared James Nichols, Scorpion Child, Tyler Bryant & The Shakedown, Toseland and Dan Baird and The Original Sin, plus made an appearance at the Hard Rock Hell Festival.
As anyone who has seen The Bad Flowers live can vouch their fuzz-driven psychedelia-dipped riffed-up hard driven blues rock is distinctly modern in approach and they deliver in a unique performance.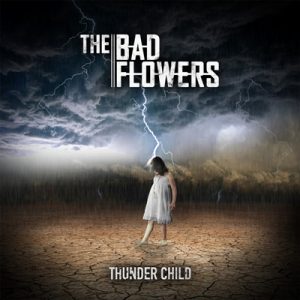 'Thunder Child' is available digitally from iTunes while their debut album Starting Gun is due in early 2018. Prior to that they will take off on a 10 date UK tour; five of those as support to The Picturebooks and one in Oxford supporting Skinny Molly, and following that a Planet Rock appearance in the new year. Tickets can be purchased direct from the band's website by clicking here.
THE BAD FLOWERS OCTOBER / NOVEMBER 2017 UK TOUR *Supporting The Picturebooks  **Supporting Skinny Molly

*Birmingham, The Flapper  Thursday 5 October
*Manchester, Satan's Hollow  Friday 6 October
Workington, Lounge 41  Saturday 7 October
Bristol, Mothers Ruin  Sunday 8 October
*Grimsby, The Yardbirds  Friday 13 October
Swansea, The Pit  Saturday 14 October
*Sheffield, Corporation  Sunday 15 October
*London, The Lexington  Monday 16 October
**Oxford, The Bullingdon  Tuesday 24 October
Leicester, The Soundhouse  Friday 24 November
Planet Rock presents Winter's End  Friday 23 February 2018