This time last year King King had a live album out; the culmination of three recorded in the studio, an awful lot of touring, and a bagful of talent put in by the multiple blues rock award winners. As a statement we viewed it as a greatest hits collection and looked for similar songs getting added to their set list as time rolled on. Only, the band had other ideas.
They weren't content with giving us more of the same, good as that was. It transpired they actually wanted to reach out beyond the lights. Size up an even wider audience, possibly. They talked about adding more rock to their blues. Singer/guitarist Alan Nimmo mentioned the likes of Thunder and Whitesnake as influences on the songs they were developing. I had my doubts they were pushing in the right direction. Would they leave their comfort zone and find themselves all adrift, I wondered. More to the point would their existing fans desert them?
When radio stations started playing '(She Don't) Gimme No Lovin' you did wonder if it was by Bowes, Morley et al. With its hard rocking British guitar strut and rhyming couplet she-done-me-wrong style lingo it was purpose built for early Thunder. But they've got their own modern game plan, and you simply enjoyed the hell out of the song and looked forward to playing it loud for everyone at the next barbeque you had during the summer (shame the sun didn't come out).  Extending that kind of sound across the whole of an album wasn't going to work though, surely.
As it happens they didn't try to hard. Instead they took a closer look at how the British classic rock writing template had developed.  They had already mastered the principles behind Free and Bad Company, with a voice like Nimmo's they couldn't not; but there's more variety on offer from this island nation and that's why once upon a time its bands ruled the face of the rock world.
A slower tempo ensues for 'Heed The Warning' and while generally upbeat in feel with a warm organ sound from Bob Fridzema throughout, it is in fact an impassioned apocalyptical blues number. Sturdily the song rolls and builds momentum, a gospel styled chorus suggesting a request for heavenly salvation even as the chink of guitar chords ticking like a clock denote a race against time. It is followed by my favourite track on the album, 'Broken'. Here the distinct change of each chord that is strummed on guitar does remind us of classic Whitesnake but it forgoes their bluster opting for deep soul-stirring in its heart bleeding blues rock. Top class. You know folks are going to be singing this one back to them live. A piano leads into 'Find Your Way Home' and initially there is something of a soul ballad to this, becoming more a Van Morrison Caledonian blues with Free's 'Heavy Load' as passing chord reference.
Progressively slower in tempo with each passing number they now change gears with 'Tear It All Up'. Guitars strutting rhythmically like a parading peacock amid tenser dramatic holds. While you could imagine Coverdale and his old gang pulling this off, there's a stronger and tighter pull that recalls The Rolling Stones. Those rock credentials King King claimed to be in pursuit of may be more about a sound and application of style than too obvious influences. The band comes across as tougher and leaner, and in the process more contemporary to the current rock mainstream.  Calling in Chris Sheldon to mix Exile & Grace is obviously a key component in establishing this.
Fortunately for those still seeking the familiar, drummer Wayne Proctor, along with Nimmo, remain in their production chairs and the signature sound that has helped them achieve their accolades thus far remain intact, rather there is a greater potential to have America embrace the band as Europe has. Certainly 'Betrayed Me' has that Bad Company arena rock feel to it, being firmly rooted in the power rock ballad format with guitars wailing away nicely come its conclusion. That good time blue collar rocking is followed through with 'Long Time Running' the similarities between Nimmo's voice to Paul Rogers remarkable but he also adds a growling sneer while the hook line chorus is straight out of the Thunder songbook, and a good choice too.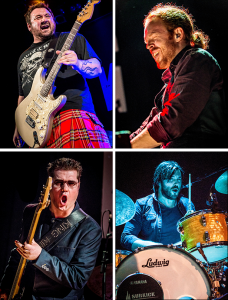 Old school influences continue with 'Nobody Knows Your Name' that takes the riff from Free's 'The Stealer' grinds it sharply and stays on the clean side of early Coverdale vocal mannerisms while swinging throughout on a cool pulsing bass line from Lindsay Coulson. They finish the home run with 'I Don't Wanna Lie' the kind of song Bernie Marsden might have wrote for another Whitesnake hit single, had he not jumped ship; Nimmo's vocals cruising  in tandem with Fridzema's lazy blues melody on organ, the all too brief guitar solo oh so sweet.
Exile & Grace does not disappoint. It confirms all King King fans love about this band is intact, but where once they appeared to take everything in their stride now they swagger too. And they have every right to do so too. King King are on a roll don't stand in their way unless you're part of their audience – And if you are dance and sing along loudly with passion!
Exile & Grace goes on general sale in October from Manhaton Records; you'll have to wait until 2018 to catch them live again.