Suzi Quatro arrived full-blown (but only pint-sized) as a tomboy caterwauling Aphrodite one Thursday evening singing 'Can The Can' on Top of The Pops. Her figure-hugging black leather cat-suit eternally etched on the minds of school boys and their fathers, her espousing rhetoric straight out of the The Wild Ones came as both a shock to the system and an inspiration to her own sex. Because sex it was she sold, in the form of its musical euphemism rock 'n' roll. And coy as it was we bought it, with her selling truckloads of singles over the next few years even as she took a detour into more mild-mannered country rock.
She entered the British charts while glam rock was still in its heyday – A music form that had more blokes who looked like bricklayers wearing glitter than anorexic Adonis types. Quatro's band had the former type's build but wore ton-up boy leather jackets. Signed to record producer Mickie Most's RAK label with the song-writing team of Chinn and Chapman writing her hits, there was certainly a formula at work but she also wrote her own material so Legend, this Best Of collection of 20 tracks gives the listener a good opportunity to experience both.
Quatro herself cherry-picked the songs featured on Legend, so we not only get to hear the big-hit monsters but songs that presumably meant something to her at the time, and while musically some of those might not be the most endearing, lyrically they prove intriguing; and if not offering more personal insight than her own autobiography they at least act as blueprint for how to value your life as a young girl and not get taken for granted. Most notably on 'Wiser Than You' a beefy country rock song about a relationship break-up where the metaphors are few and the implications of groomed underage sex leave the fathers among us wanting to take the guy round a corner and kick his head in, despite her singing she's wiser now.
Not that girls were ever as innocent and shy as some make out; it's that being aware of a situation and able to handle it without being forced either emotionally or physically that's the point. Quatro dealt with the other side of the coin from the get-go with 'Can The Can' – Some nonsensical rhyming lyrics aside that "Get him while you can" line was sung like predator, its hard rocking centre as solid as any Quo number of the period and the part where it slows down and she lets out a series of "Ooh, can the can" far more feral in its audible orgasm than Birkin & Gainsbourg's' 'J'Etaime'.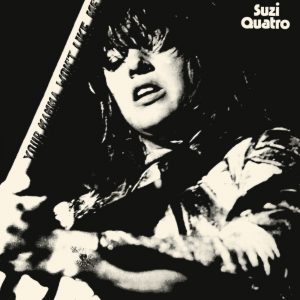 Better still as pure hard rock is '48 Crash' a blueprint for bands like The Runaways, though 'Devil Gate Drive' is where they tended to cruise musically taking the rock boogie essence of Foghat or Savoy Brown shaking the tinsel of glitter rock over it and coming up with something suitable for a strip joint (Well, if you ignore that old video footage of the band's own awful dancing routine seen on BBC music reruns or Youtube) – As a single, its B-side 'Daytona Demon' was of a similar pedigree with added slide filigrees courtesy of guitarist Len Tucker (who she was at one point married to).
Ultimately, on the evidence of the tracks featured here, even when the lyrics aren't her own, she owns them. 'Shine My Machine' and 'Skin Tight Skin Girl' feign androgyny but sure as hell ain't, the former rocks sensually while the latter has an early disco funk and both allow the band to stretch out musically, the latter especially as they come on like Circus-era Argent. For the most part though, the band do the job they're paid for, drummer Dave Neal builds a four to the floor rhythm that Quatro's bass bops over, Tucker plays it straight and when given a chance to solo tends to extenuate vocal melody lines, while keyboard player Alan MacKenzie adds bluesy piano rolls on early hits, and a more fairground style organ approach to later ones. There may be tracks featuring other musicians, but this was definitely her core band early on.
As can be noted by tracks listed earlier, cars and bikes feature heavily, for use as simile, metaphor and literal appropriation. 'The Wild One' is a near-perfect aural audition for the character of Leather Tuscadero she would later take on in hit American comedy series Happy Days. It races along, with Quatro hollering away and it needs to be said that Suzi sung very well, hitting catlike high notes or rumbing and ruminating  akin to Presley and Cochran, and on tracks featured here such as 'Cat Size' delivering a more sensitive Shangri-Las type ballad. However, the bouncy rock 'n' roll pastiches of 'Too Big' give way to more countrified tunes from 'Michael' to her return to the singles charts with numbers like 'If You Can't Give Me Love' and 'Stumblin' In' her duet with Smokie lead vocalist Chris Norman, that saw them reaching No. 4 in the US hit parade. 'She's In Love With You' marries both sides of the coin, with a previously unnoticed Giorgio Morodor disco rhythm underpinning the tune.
'Half As Much As Me' is a genuine happy surprise. Fundamentally an upfront rocker with MacKenzie applying synthesisers, Quatro sings explicitly about how she's the better option to a potential lover on what sounds like a rocked-up Anouska Fox fronting Roxy Music or Be Bop Deluxe, although I'm sure there's also  a cheeky play on Blackmore's 'Highway Star' guitar solo from Tucker.
Less successful musically, is the mournful serious muso sung art-rock of 'Suicide' that begs more questions than answers with its first person references to being "a prisoner of 42nd Street" (presumably New York's major bi-directional one) but when paired with the later 'Hollywood' that has a third person narration dealing with the harsher realities of fame, and not being able to cope with it begins to make sense. Musically it's as far-removed from 'Can The Can' as you can get with an upbeat rhythm guitar and bossa nova funk bass line that has Talking Heads meeting 10cc. With '15 Minutes Of Fame' that emotional quagmire is stirred again, technologically enhanced with a vocoder on her voice followed by gang sing-along  lyrics, and keyboards playing out like Scottish bagpipes so it all comes across like Buggles meets The Waterboys. It should not work and it is so obvious in places but I really like this. Maybe it's because it's played with such gusto, that and the rather nice twin guitar solo.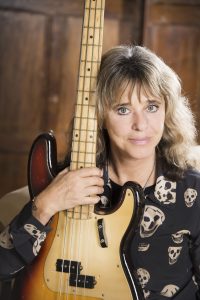 If those last three songs were personal, reflecting careers paths she wasn't happy to walk down then 'Free The Butterfly' is more of an epiphany being naturally about making decisions and change. Presumably of more recent vintage with a saxophone blowing away, her own voice deeper and cracked in pain but it's for the sake of the song for she also hits high notes along the way. The album finishes with a song that feels of the same era, albeit with a hard rocking 80s guitar sound.
As a collection, Legend is a very good bargain. The hits are there for those who want them in one easy package, there's enough variety for the curious to find out what else she was up to musically (and maybe invest in some re-mastered original albums), and to learn there was more to her than boys and bikes personality wise. That said, this former school boy has rather enjoyed reliving the raucous rebellion of those musical times and will enjoy doing so again.