With only two UK concerts planned for 2018 and their first album in five years not due until 22nd September Black Country Communion fans might well be craving greater musical satisfaction. While we can't do anything to gratify your aural senses we can hopefully help let you know the band's return should be worth the wait.
Black Country Communion are releasing some behind-the-scenes videos about how they recorded  BCCIV, Episode 1 of which you can view here:
Following the release of their third album, most people in the music business presumed the band had called it a day, so news of their re-gathering raised some eyebrows. It transpires guitarist Joe Bonamassa takes responsibility  for contacting the other band members to see if they would be up for going back into the studio to write and record a fourth album.
"I just felt the time was right for Black Country Communion to go back into the studio and write and record a new album. When I contacted Glenn, Derek and Jason, they immediately agreed to give it shot. The timing was right."
The band assembled to record BCCIV at producer Kevin Shirley's Cave Studios in Los Angeles back in December last year and was subsequently mixed at Cave Studios in Sydney this March.  All songs on the new album were co-written by Glenn Hughes and Bonamassa, with all lyrics written by Hughes except 'The Last Song For My Resting Place' that was written by Bonamassa.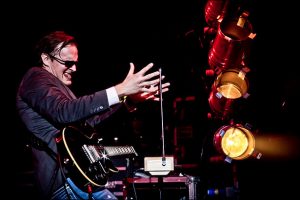 What follows is commentary on each song, as given by Hughes (plus Bonamassa where noted):
'Collide': "I had written the riff to this song in the morning of the first day of writing BCCIV. Joe came over and I played him the riff, and we finished the song before lunch. I had a feeling that 'Collide' would set the pace for the record."
'Over My Head': "This was a song I had written after a session with Joe. It was kind of like 'One Last Soul' where I had written a song and was unsure if it would fit our style simply because it was more mainstream. 'One Last Soul' definitely clicked with rock fans, and got a lot of radio airplay. 'Over My Head' is in the same ballpark, big groove and memorable chorus. I can hear it on the radio."
'The Last Song For My Resting Place': "I was intrigued by the notion of Wallace Hartley (violinist and band leader on the Titanic).  The fact that he played everyone off the ship to the detriment of himself brings you back to a more selfless time in our history. I don't believe the conditions are around in 2017 for something or someone like that to step forward and be recognised.  I felt that his story and this song played well on this album. His violin is in a private collection and survives to this day." said  Bonamassa.
While Hughes commented: "Joe had two parts to this song: the intro and outro where the track is suited with a mandolin and fiddle. The middle part, heavy and dramatic and dark. Absolutely love Joe's vocal on this song. A tale of the Titanic going down into the deep, and a violin that would perish alongside its many fateful passengers."
'Sway': "A swagger riff leads the way on this track. We changed the groove, when Jason suggested it should have a 'Smooth Criminal' Michael Jackson vibe. This was how Jason's Dad, John, would have approached it in Led Zep. I'm mesmerised by the beat in the verse, and when it hits the chorus it's full on classic rock, once again the vocal is carrying the message."
'The Cove': "Joe captured the mood brilliantly on this song. I'm still shaking my head in astonishment. "I wanted to write a song about my love for dolphins. Each year thousands of these beautiful souls are murdered by hunters in the coastal town of Taiji Japan. They are drove into the killing cove and brutally slaughtered. I have been working with Ric O'Barry from the Dolphin Project for four years, and told him I had written a song about this senseless and  horrific scenario for BCCIV, that has been happening for decades.
"My heart aches as I watch on live stream on what happens in the cove. I ask you all to listen to this song and understand how deeply affected we all are as animal and sea life protectors. The Dolphin Project has changed my life, and to my dying day I will be of service to be a protector of all inhabitants that live in the sea. There will be a video for this song thanks to Ric and his son Lincoln for supplying the footage."
'The Crow': "It was time to get up out of our chairs in the writing session and stand up to find a pulse for this rock song. All push and pull, coming and sounding like the Joe and Glenn song 'Black Country' from BCC1. I wanted to reference the crow, who watches over our band."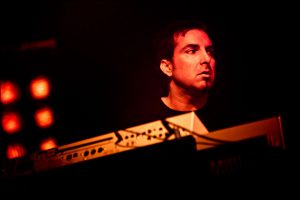 'Wanderlust': "Hats off to Joe for bringing this idea into the session with an insane verse groove. Love Derek's grand piano lead into the last verse. I wanted to take the chorus to a very melodic Abbey Road vocal vibe. I've always been a wanderer, always returning, coming home with a sense of lessons learned and never leaving my spiritual path."
'Love Remains': "I wrote this song for my dad on the flight back to the UK for his memorial service. When I went to record it, my mom had also just passed away. So I sang it for the both of them. I was installed with a greater sense of gratitude. I used a mid-falsetto vocal on the chorus to add sensitivity to the melody that I had written. The content is quite simple. When the last breath is taken only love remains."
'Awake': "I song about living forever. A song for the loyal. A song for the evergreen. I wanted to ramp up the chorus and relive the long nights of freedom."
 'When The Morning Comes': "The feeling I had with this song, was I had woken up from a dream and walked down the hill through the field to be by the water at my home. Most of my work involves themes of coming home to be by the sea. The last song on this album finds me in a safe place, almost like the ending of The Wizard of Oz, surrounded by Joe, Jason, Derek and Kevin. Our brotherhood – Long may we continue."
Those purchasing the vinyl edition of BCCIV will find it also features an additional track that Hughes commented on:
'With You I Go': "To find someone who can share your journey, is in the hands of fate. We meet many people throughout our lives, some relationships, are life lessons on how we grow and learn.
But when you have found or met your significant other, who happens to be your soulmate is absolutely life-changing. 'With You I Go' is a song about, whatever happens, I'm with you, because it was meant to be. I've done my best, now you can rest, on my shoulder."
For previous Black Country Communion album and tour news at Ramzine click here.