Welsh nu-metal/ ragga-punk heroes Skindred raised a few eyebrows when they were announced for Bloodstock, which is traditionally an 'extreme metal' festival. For most: this was a great addition to the line-up being part of the metal family, and being festival favourites from Boomtown to Download and everywhere in between.  Some Bloodstock purists weren't sure of their place between Hell and Arch Enemy, but Benji Webbe and the boyos certainly showed them they were worthy of the Catton Hall crowd. We caught up with Skindred's own Arya Goggins (drums) and Daniel Pugsley (bass/ programming), at Bloodstock, to talk about: being part of different festivals, making Bloodstock dance, the Newport Helicopter, and constantly picking up influences.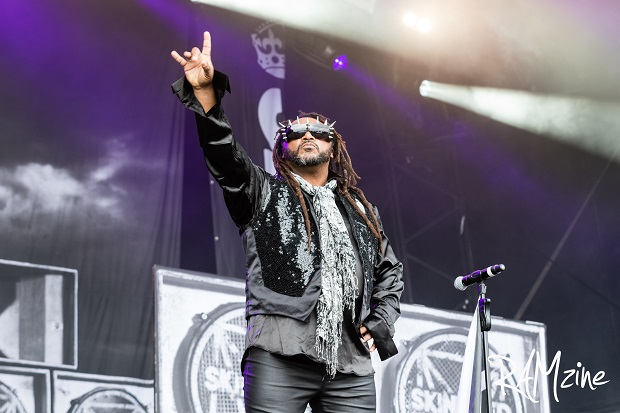 So firstly, how does it feel to play Bloodstock?
Arya: Fantastic! It's a privilege. Been in the calendar since last for us so we've been looking forward to Bloodstock all year. We are Download veterans so it's good to play another metal festival. I've heard nothing but great things about it too.
Dan: Nicest people at Bloodstock, we did a meet and greet earlier and they were the sweetest people, it's such a nice vibe here.
Because you usually play festivals like Download or Boomtown, did you feel you needed to 'heavy it up' this weekend?
Arya: Nahhh! Just do what we do. None of us want to 'tailor' the set to each festival. I mean you don't book a hip hop band to play heavy metal, do you? Hopefully the crowd will enjoy what we do. I hope so.
Do you feel you can fit in to any festival because of your unique style?
Arya: I suppose that's our secret weapon really. I think today we are going to be the 'Abba' of the festival.  Although Ghost are very like that…very song-based. Us, and them. I know Megadeth have melodies as well, but we are definitely on the lighter side.
Dan: Which is great for something like this because you stand out. (To Arya) you know 'Rat Race' with the really heavy riff?
Arya: yeah…
Dan: Let's play it heavier than we ever have before! Just play it all on the China.
Arya: Do it!!
Dan: Or just really slow…
(Arya pretends to play it really slowly)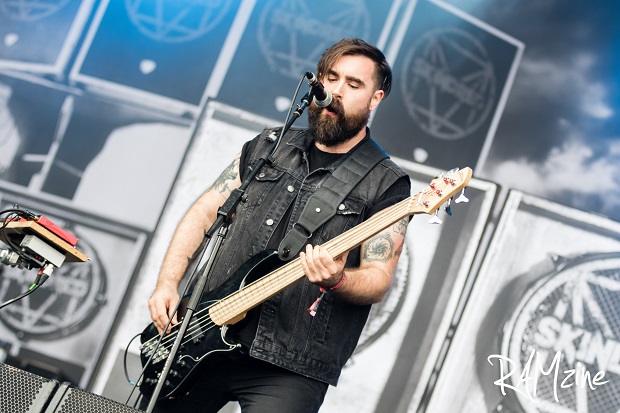 You brought out a new album in 2015 (Volume) and one the year before (Kill The Power) are you working on another already?
Dan: We're going to be working stuff at the end of the year. To be released, hopefully, next year. A new single coming in October, which will be a stand alone track. Little bits here and there. I don't want to do album after album, I want to keep bringing stuff out, keep it fresh. Fresh and clean.  Finishing this cycle, in terms of festivals, we can concentrate on the album then.  We can't work on albums when we are touring, not that kind of band. We have tried setting up a studio on the bus, and it didn't really work for us. One thing at a time.
Do you feel that's how the industry has gone? As in releasing stand alone tracks or videos, rather than whole albums?
Dan: Yes, it's important to put out more content, all the time. It has to be something new to keep you relevant and 'out there'. Unless you're Metallica (laughs) these heritage bands can let people wait 5 or 6 years and fans will be waiting with their tongues out. Like there's meant to be a new Tool album coming out.
Arya: And that's going down the Guns N Roses route for me…
Dan: Yup. I heard Maynard James Keenan [Tool frontman] talking on a podcast about it. Those guys take a long time! He's done about 3 or 4 records in between, but that's part of their art , isn't it?
Arya: For us this is what we do, we don't do anything else but Skindred. So when it's time to write we get together, write for a few months, come up with something and hopefully go and record it. There's not a big secret or big plan, we just have lots of ideas and draw on different influences. Especially with the electronic side, that's an ever-changing circle – so we're always picking up things.
So you are picking up on new things all the time?
Dan: Always. Benji [Webbe, Skindred frontman] uses a phrase a lot: 'We're a dog with 5 dicks'. But which dick do you use? Gross way of saying it but… it's true. Because you have all these things to draw on, doesn't mean we have to. It's about being objective about it.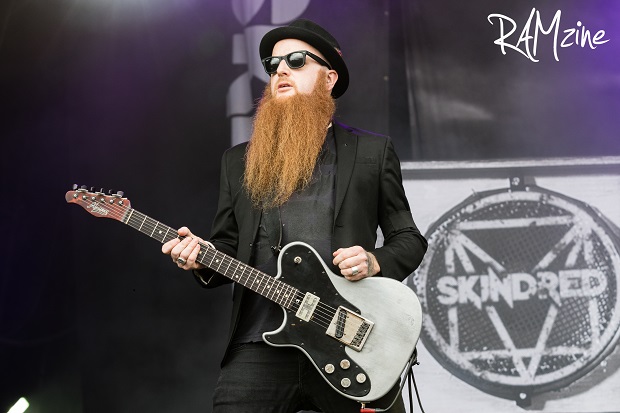 Bloodstock's never had 'The Newport Helicopter', you think everyone will be on board?
Arya: There's always some tosser in the crowd who is like 'I'm not gonna do it!'
Dan: Well piss off, then!
Arya: I know we do it,, and other bands are like 'everybody get down…etc.' and there's always one who's like "I'm not getting down, how about that?" Then you see their mate tug on their shoulder and are like 'come on, man'. It's just a bit of fun.  It's an involving show.
Dan: Yes, it's an inclusive time. Leave that all behind, trying to be cool sort of thing. We're just having a laugh.
Arya: With the Newport helicopter, it's like when you go and watch your favourite film. You don't want it to be different. You want the Newport helicopter at the end, and we want to do it. It's up to the crowd if they get on board or not.
Dan: Well sometimes I feel bad when girls are in the front row, don't feel like you need to take your top off if you don't want to.
Arya: You end up throwing them towels and stuff.
The set will be varied and I want to see people dancing.
What have you got in store for the set today?
Arya: I think it will be different for the people here. It's a new set for us and we're near the end of the festival season so I think it will be different for everyone. It's quite polished for us…I think we are even doing an acoustic number tonight. Turn it on it's head, do the first ever Bloodstock acoustic song on the main stage (laughs). But Megadeth do acoustic sometimes…
Dan: I've seen and acoustic guitar in their gear. Kind of like the kind Ill Nino would use.
Arya: But we'll do that first, right?
Dan: Yeah, you've got to give some 'light and shade' to things. If everything is 100mph, you lose all sense of speed. The set will be varied and I want to see people dancing.
Note: Skindred actually did perform an acoustic version of 'Saying It Now'.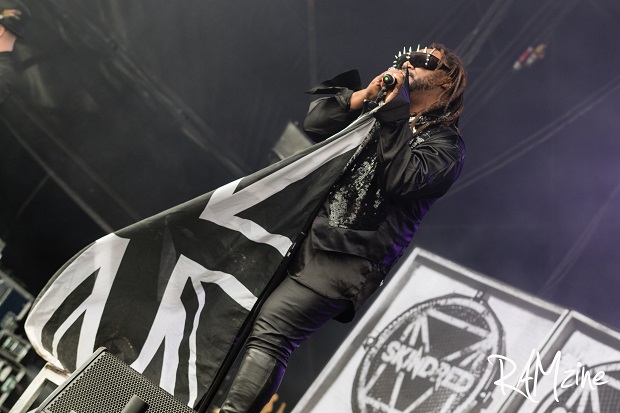 So will you be touring after Bloodstock, and other festivals?
Arya: Yeah, we're going to Australia in September, and then Japan, so the touring cycle will probably finish in around October. Then that's Volume done and dusted.  Pretty old school really. Even though we've been talking about keeping it fresh and exciting. We're not looking at stopping any time soon.
Dan: It's funny all the bands we used to tour with back in the day who have kind of 'come back' in a way. I sometimes think 'That could have been us' In some ways, but in some ways not. We are a very unique thing. We mean a lot of different things to different people. We play Boomtown, they pick up on stuff. Then play Bloodstock or Download and they pick up on something else. I think it's that aspect that's given us a longevity.
Arya: You don't want to take for granted the fans and people who are in to your music, you have to respect what they give to our lives as well. Also I don't think we've reached a certain peak yet.
Given this opportunity – what woulds you like to say to your fans?
Arya: Thanks to anyone who comes to see our show, buys a tshirt, buys an album. We never take it for granted. Stick with us and we will grow together!
Dan: Keep your ears out for the new track…and thanks!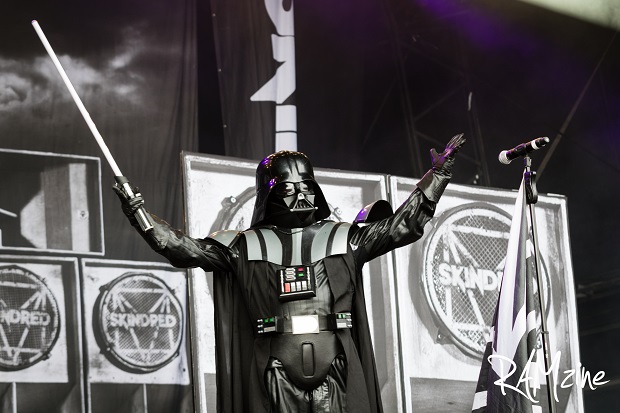 All live photos by Ash Crowson.
…
Check out our highlights package from Bloodstock 2017 here! Full review to be featured in issue 15 of RAMzine.
Check RAMzine.co.uk for other interviews with Hatebreed, Soilwork, Devilment, Courtesans, and many more!