Strange how things happen isn't it? In two days exactly it will be four years ago to the day that I saw Black Cat Bones for the second time at the Zanzifest, the first time was at Metal goes Mental in July 2013 also at the Zanzibar in Liverpool. Both times the band made their mark and how with their Southern blend of hard rock. I think that was the last time I saw BCB as I sort of pulled away from the Liverpool scene as it was a lot easier at the time for reasons I won't go into, but I do remember the band being great to watch live. Which prompted me to ask for their 5 track EP to see how far they have come in five years!
I noticed that Jay Lashbrook isn't with the band anymore and been replaced by Adam Kerbache. Smacking the first track on the player 'Seen Better Days' I can hear a more polished act. The guitars and drums rock with heaviness while Jonnie's voice feels stronger – great start to the EP.
The charisma of the band is still there and grown to bigger proportions not surprising with the characters in the band as Jonnie's voice is perfect for this blend of rock and I know Ash of old on drums.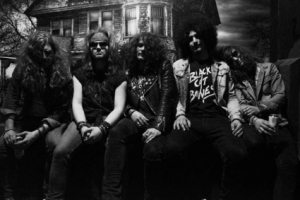 The thing that throws me a bit is why they left it four years to release their E.P?
'Lust' is such an amazing track and like the first track leaves nothing from the mix.
'Give You the World' is another slinky track that just has the feet tapping and the head moving. The harmonies are superb! Certainly a very forthright track that goes far in my estimation.
'Better the Devil' has that hard edge that pushes it toward a more ruthless conquest with brutal lyrics with a thunderous musical story behind it.
'The River' holds on to its electrical menace that sparks off some fantastic harmonica with a rough and ready glaze of melody that chips away at your defence.
It is safe to say that Black Cat Bones have not dropped down a peg or two but certainly pulled themselves up their career ladder by a few notches.
It is great that the band have left the oppressive confines of Liverpool and are playing different areas and of course gaining new fans along the way. Awesome, absolutely awesome!